Providenciales is one island in Turks and Caicos you can't miss. The countless beaches, incredible seafood, beautiful resorts, and water activities make Provo a dream destination for anyone looking for that perfect island getaway.
Thanks to the Providenciales International Airport (PLS), getting flights to Turks and Caicos has never been easier. PLS is the only airport in the Turks and Caicos that welcomes scheduled international flights. If you're visiting Turks and Caicos by cruise, all ships arrive at Grand Turk – about 122km or 70 miles away. Unfortunately, it's not feasible to see Providenciales when visiting Grand Turk by cruise ship for a day. However, the lack of cruise ships allows Provo to stay low key and crowd-free.
With easy access via flights and the avoidance of cruise passengers, Providenciales is one of the best islands in Turks & Caicos to spend multiple days exploring. Layton and I got to do just that over Christmas in 2018. We found Provo to be one of the more updated Caribbean islands in terms of infrastructure, cell service, quality of housing, and food.
If you are looking to visit Turks and Caicos, here is my guide on how to do Providenciales the right way!
What to Do and See
Spend the day relaxing on the beach. With any great Caribbean vacation, a beach day is a must. Hell, you could even do a beach week if you wanted to. Providenciales has so many beaches that I wrote a blog post purely about them – "The 10 Best Beaches in Providenciales".
Go horseback riding in the ocean. From NFL stars to the Kardashians, something everyone does when visiting Provo is take a horseback ride in the surf. We went with Unique Tours Rentals, which was fantastic. About an hour or so of riding on the beach, in the shallows, and exploring the Blue Hills beach made for a perfect midday activity. Click here to see a video of us riding!
Discover the incredible marine life that lives under the sea. Turks & Caicos is famous for having extremely clear water. If you are up for a day on and under the water, you came to the right island. Big Blue Collective is the premier Providenciales half-day and full-day water safari company. We did both and wish we could have done more! Their Edge of the Banks full-day tour allowed us to visit West Caicos, a relatively remote area of the island chain, and snorkel with sharks, rays, dolphins, turtles, and hundreds of fish. Some of my favorite underwater photos and videos were from this single day. See here. Don't miss the chance; book with them now!
Say hello to the iguanas at Little Water Cay. During our Caicos Cay Cruise with Big Blue Collective, we visited Little Water Cay. More than 50 iguanas inhabit Little Water Cay but don't expect them to be as friendly as the iguanas in the Exumas. These iguanas are truly wild, and it is forbidden to feed them, but they are still super interested in tourists and show up for some photoshoots if you are patient. If you want, you can also kayak to Little Water Cay yourself. It's not far from the harbor on the east side of Provo.
Get some air while kitesurfing. Providenciales has a fantastic kitesurfing spot on the Southeast side of the island – specifically Long Bay Beach. I've never tried kitesurfing, but I have watched several all across the globe. I must say, it must get your adrenaline pumping! Some of the kitesurfers get 15 to 20 feet high in the sky!
Catch your dinner by deep-sea fishing. Another "can't miss experience" is deep-sea fishing in TCI. We were lucky enough that our Airbnb host, Scott, runs a boat charter service. Scott took us out to some islands and let us enjoy uninhabited beaches while fishing on the way back. We caught a huge barracuda! It became our Christmas dinner that year! How festive! If you're interested in fishing, be sure to check out Scott's company, SeaSpiceTCI.com.
Try some delicious conch. Providenciales has some of the only conch farms in the world, so if you are up for some conch fritters, salad, and even burgers, prepare your tastebuds! We tried a ton of different conch shacks for lunch and dinner, but our favorite was easily Shay On The Beach. They just opened the month we arrived and had spectacular food, ambiance, and service.
Join locals and tourists alike at the Thursday night fish fry. Every Thursday at around 6 PM, tourists and locals head to Kids' Bight Part (right next to the Gansevoort hotel) for a fish fry. There are crafts, foods, music, and souvenirs. While the experience is free, everything else comes with a price. However, the drinks aren't too bad, and some of the crafts are truly beautiful! We ended up buying a handmade Christmas ornament from a local artist who specializes in making ornaments out of seashells.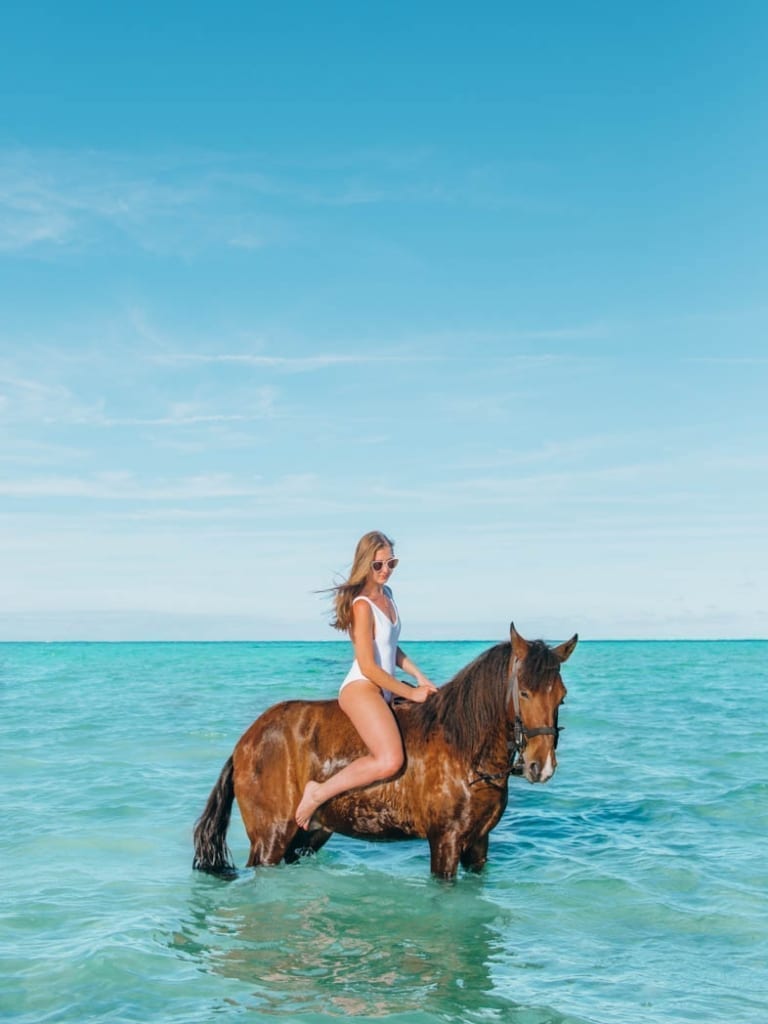 Where to Stay
Grace Bay Resorts has multiple properties on the island.
At the highest level, you'll find the private villas. These range from $10,000 a night to $100,000 a night. Layton and I got to explore these, and oh my God, are they beautiful. Private infinity pools, secluded beaches with reefs just 10 yards out, guardhouses, and the most luxurious of accommodations you can find.
The newest property is the Rock House Resort. These are currently under construction and will be made with some of the limestone found on the island. It's built to have a Mediterranean vibe. It also has a private beach. I'm sure when they are finished, it will be beautiful.
The other three properties are Grace Bay Club, West Bay Club, and Point Grace. All three have a similar 5-star, beach luxury feel. Welcome cocktails, beautiful beaches, shimmering pools, and no cares in the world. The food was excellent at Grace Bay Club, where we stayed!
Between the variety of properties, Grace Bay Resorts will surely have something to fit your needs.
(All photos below are from Grace Bay Club)
If you're looking for something more affordable, try Airbnb.
Resorts on Providenciales tend to be on the expensive side. It isn't uncommon for a standard resort room to be $400 or more per night. However, Airbnb offers a fantastic option for those who want to explore the island without going into debt.
We booked an Airbnb for roughly $150 a night months before our vacation. However, due to our credit card expiring and us forgetting to update our AirBnB payment method, we lost our reservation just a day before we were supposed to check-in! Scrambling to find a new place to live for the rest of our vacation, we were at the will of the Airbnb gods.
Luckily, our host had just started to offer up his place. With zero reviews, we took a chance.
It was amazing. Not only is our host, a new friend, but he welcomed us to the island life. From boat rides to happy hours, we had a live-in tour guide. We were fortunate in this situation. Here is where we stayed.
Graceway Smart Grocery Store – First off, TCI is not cheap. It's an island. It's a luxury island. The combination makes a regular burger about $25. However, if you are on a budget, the grocery store is the way to go. On the main road throughout Provo is the Graceway. It will have everything you will need to stock up on for your TCI adventure.
Da Conch Shack – An iconic bar and restaurant, Da Conch Shack is well known across the island. Specializing in, you guessed it, Conch, this pink and white beach-front grill is as tasty as it is cute. I highly suggest you have lunch here at least once. In a perfect world, you do happy hour and dinner here as the sunsets over the horizon.
Shay on the Beach – One of the newest additions to the Provo food scene, Shay on the Beach, is right next to Da Conch Shack. Given the new construction, Shay on the Beach is currently a hidden gem. The atmosphere is perfect. The decor is perfect. The sights are unbelievable. The food was also my favorite on the entire island. If you enjoy Da Conch Shack, you'll enjoy Shay on the Beach.
Somewhere Cafe – My number 1 spot for cheap food and beautiful scenery is Somewhere Cafe. Their burrito is well-known across the entire TCI island chain. A two-story bar and grill with live music on the private beach below make for a beautiful spot. We stopped here before walking to the Thursday Night Fish Fry. I would suggest you do the same. You can even swing by afterward, too!
Bugaloos – Probably the only "miss" we experienced in our Provo food crawl was Bugaloos. We heard fantastic things, and we were excited to check it out. However, Bugaloos is in a weird part of the island. Finding it was a bit tough, then once we arrived, we were not impressed. The live music was a bit off. The view was not the best. The food was meh. However, it is possible we just hit on a bad day.
Danny Bouys – If you are looking for a party spot, Danny Bouys is where it is at! They feature your traditional American bar food and atmosphere. Sports on TV, DJs at night, and even a Karaoke night! We ate here multiple times because it was close to the resort and had a solid happy hour menu.
Coco Van – An old airstream turned kitchen, Coco Van is a blast for a late-night snack. No matter how many Pina Coladas you've already been sipping, your taste buds will be in heaven due to the incredible variety of dishes served at Coco Van. After a night of partying or just walking on the beach, Coco Van is the perfect spot to fill up!
Happy Hour at Pelican Bay Restaurant – As I've mentioned a few times, TCI isn't cheap, but that doesn't mean you can't find a good deal! The Royal West Indies has a fantastic happy hour at their Pelican Bay Restaurant right next to the pool. The happy hour is open to the public, not just resort guests. They have two for one drinks daily from 5:00 pm to 7:00 pm. Whether it's a honeymoon or you and yourself, 2-4-1 drinks are hard to pass on!
How to Get Around
I highly recommend renting a car. I especially recommend renting a Jeep if you plan on making it out to the West side of the island. We used Rent-A-Buggy through Expedia. It was competitively priced and offered excellent service. However, learning to drive on the left side of the road did take a bit of practice! Luckily, Provo runs on island time, so no one is in too big of a hurry.
If you are staying at a resort, most will have shuttles and private cars. You could probably escape the island without actually driving anywhere. However, if you are staying at an AirBnB or want to explore somewhere off the beaten path, you'll have to take a taxi. Locals operate Taxis and tend to be hit or miss on quality. If you need a cab, I suggest going through your hotel.
FOR A GLIMPSE OF OUR SNORKELING ADVENTURES IN TURKS AND CAICOS, CHECK OUT THIS VIDEO: