Isla de Vieques, located 7 miles off the coast of Puerto Rico, is considered to be a haven for those seeking an authentic Caribbean experience. The island is relatively quiet, lush, uncrowded, and gorgeous. Of course, there are charming towns and resorts, but the roaming wild horses, undeveloped beach coves, and lack of traffic lights help to create this illusion that the island is still wild and untouched. Whether you're visiting for a few hours or staying for a week, Vieques is a small Puerto Rican treasure where you will experience a tropical paradise.
While Vieques is well-known for boat tours of the Bioluminescent Bay (or Mosquito Bay), there are many other activities and places to see on the island. What I've listed below is by no means everything, but if you're only visiting for a short time, these are the highlights. Even though I only had a few hours to visit Vieques, it takes its place as one of my top five islands in the Caribbean!
Sun Bay Beach
There are many beautiful beaches on the island; however, with our limited time, we wanted to visit one that was easily accessible.
Sun Bay Beach is the most popular beaches on Vieques and a quick 15-minute cab ride from where the ferry drops you off. This beach is well maintained, has a lifeguard, and offers amenities such as bathrooms, showers, and a restaurant.
We spent roughly two hours walking along the shore, laying in the shade of the palm trees, and digging our feet into the light tan colored sand. The wind blew mildly, rusting the palm trees overhead just enough to lull a couple of lazy beach bums like ourselves to sleep. However, we didn't have all day, so we had to get going, which is where Sun Bay's other benefit comes into play – its location on the island.
Sun Bay is on the south side of the island next to the small town of Esperanza. If you walk to the far west portion of the crescent beach, you can cross a sandbar and arrive on the beach of Esperanza. This walk was a blast. There's even a small island, Cayo de Tierra, that you can access by foot across the sandbar.
The Town Of Esperanza, Vieques
Esperanza, which means hope in Spanish, is the perfect tourist town. Only a 10-minute walk from Sun Bay Beach, this town consists of a small walk-way full of restaurants along the beach, ATV rentals, colorful boats in the bay, and friendly faces everywhere.
We stopped for lunch at Bananas Beach Bar and Guesthouse. The two-story restaurant is laid back and offers excellent views of the sea. We had the pulled-pork sliders and chicken mofongo – both were delicious!
The Ceiba Tree (Parque de la Ceiba)
The Ceiba tree of Vieques is something we didn't plan on seeing. However, after hearing about it from our taxi driver, we had to stop by. It is somewhat of an island mascot.
The tree is between 300 and 400 years old. Myth and legends surround this Ceiba tree, which is easy to understand once you've seen its size.
It's one of those places that has an aura around it. Time moves slower, the grass seems greener, the wind smells sweeter, and you become somewhat hypnotized with nature. It reminded me of the talking tree in Pocahontas!
The rest of the park, not just the tree, is just as cool. Wild horses frequently graze around the tree. We even saw two mustangs fighting each other in the middle of the road! Vieques seems to be overrun with horses, but all the locals treat them as their pets, leaving treats and petting them if they get close enough. We weren't brave enough to approach them, but we did snap some good pictures.
There's also a beach! Punta Caballo is just north of the tree, while Mosquito Pier is west of the tree. Between Punta Caballo and Mosquito Pier is a beautiful strip of sand. It is much more "virgin" than Sun Bay, but as we walked along it, we found it still held all of the same beauty.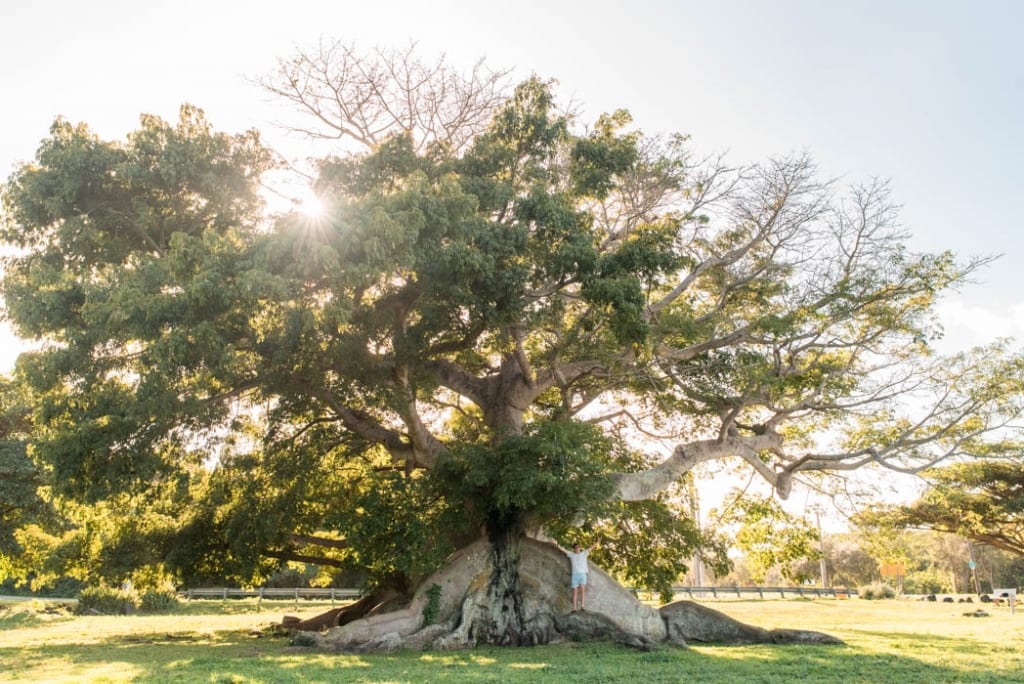 Mosquito Pier
What began as a project by the U.S. Navy in 1941 to create a sea wall connecting Vieques to mainland Puerto Rico, Mosquito Pier is one of the best fishing and snorkeling spots on the island of Vieques. The pier itself is over a mile-long, which makes it a fantastic snorkeling spot.
The pier offers calm waters, which are accessible from either the beach or the pier itself. We didn't have time to snorkel ourselves, but just from walking the dock and glancing over the edge, we could see barracuda, starfish, sea turtles, and tons of different schools of fish.
To get to the pier, we walked along Playa La Peña, the beach near the Ceiba tree. However, the best snorkeling is on the other side of Mosquito Pier.
I wish we would've had more time to explore this area of the island, but we had to get back to the docks before the last ferry left.
How To Get To Vieques:
You have two options when planning a visit to Vieques:
1. Take a commuter flight to Vieques from the San Juan Airport. You can find flights from three airports in Puerto Rico (San Juan, Aguadilla, Ponce), but flights from San Juan are more flexible and much cheaper. The flight is about 25 minutes costs between $100-$300 round trip.
2. Take the ferry from Ceiba. This is what we did since it was more affordable, and we were only visiting for one day. You can reserve tickets online at www.porferry.com. Only 20% of the tickets are available online, so if it looks like they are sold out, there may still be a chance to purchase at the ferry terminal. If you visit during holidays and weekends, the wait will be long, so come prepared with snacks and some patience. Tickets cost $2 one way, and the ride is approximately 30 minutes.
Tip: The ferry schedule often changes (due to weather, holidays, maintenance, break downs, etc.). Please check the official ferry page for the daily itinerary.
How To Get Around Vieques:
Vieques is a small island but not so small that you can walk the entire thing in a day, so having some kind of transportation is key. Here are the best options for getting around Vieques:
1. Rental car. There are many beaches only accessible by car, preferably a jeep. Some of these beaches are the most beautiful on the island and require 10-15 minute drives from the main road entrance. To secure a car, be sure to book ahead! For more information about rental car options, check out the official Vieques website: https://vieques.com/island-car-rentals/.
2. Scooter. This is an excellent option for those visiting for one day. Not only is it a fun and adventurous way to explore the island, but it's cost-effective. For scooter rentals, check out Scooters Vieques Rentals. They also offer UTVs and golf cart rentals. We tried renting from them but didn't have a reservation. When we arrived at 10 am, they were sold out, so if you can, reserve ahead of time!
3. Taxis / Publicos. Taxis or Publicos are shared vans or cars recognized by a yellow tag. Once you get off the ferry or walk outside the airport, there will be many taxi drivers offering their services. You can share a ride, which will lower the cost, or request a private drive. Fares can range from $3.00 – $5.00 per person. We didn't have the option of a rental car or scooter, so this is what we did, and it worked out well!
Note: Before they drop you off, ask your taxi driver for their cell number and set a specific pick-up time (since service on the island is spotty). Since many of the taxi drivers are in communication with one another, you may get a different person picking you up then who dropped you off. Just be careful and call or text your original driver to make sure.
Between the beautiful beaches, amazing greenery, and clear waters, Vieques truly surprised us. We hope to one day return and stay on the island so we can truly get the full Isla de Vieques experience.
Cheers!
Angie xoxo