Want to visit an island where you can explore a new beach every day for an entire year??
I'm not talking a chain of islands or even somewhere in the long lost East Indies; I'm talking about a place just a few quick hours from the USA.
Yes, it does exist! And its name is Antigua.
Located in the northeast part of the Caribbean, Antigua is the main island of the country Antigua and Barbuda. The island itself is 108 square miles with a mixed population of around 80,000 people.
Antigua was 'discovered' by Christopher Columbus and named "ancient" in Spanish, aka Antigua, after the iconic Seville Cathedral: Santa Maria de la Antigua. However, long before Columbus arrived, the island was inhabited by indigenous people who called the island Waladli or Wadadli, meaning "our own."
Antigua may not be as well known as fellow Caribbean island countries such as the Bahamas, Dominican Republic, or Jamaica, but it is every bit as beautiful! During my week-long stay, I was able to visit some of the best spots on the island and take part in memorable activities.
To find out what I think are the 13 Best Things To Do In Antigua, keep on reading!
Learn To Sail With The National Sailing Academy
Antigua is famous for hosting major sailing events, including the Antigua Sailing Week. Yachts from all over the world come to Antigua to participate in one of the most world-renowned and prominent yacht racing events in the Caribbean. So when I found out there was a class to learn about sailing with National Sailing Academy Antigua, I immediately jumped on the opportunity!
Chartering a yacht is a considerable feat, so at the National Sailing Academy, we started small by learning the basics on a 4-person catamaran.
Sailing did NOT come naturally to me, but I had a blast gliding across the turquoise waters of the Falmouth Harbour. Most importantly, the instructors were so fun and patient, which made the experience all the more enjoyable.
For a glimpse of sailing lessons with National Sailing Academy Antigua, check out the short video below.
Experience Live Music, Local Food, And Drinks At Shirley Heights
If you want to see the most picturesque spot on the entire island, you need to plan a trip to Shirley Heights.
Shirley Heights is a retired military lookout 490 feet above the sea offering an iconic view of the English and Falmouth Harbours.
But people don't just flock here for the views. Every Sunday from 4 pm till 10 pm, Shirley Heights becomes a party. Think of it as a traditional block party with local food, drinks, music, dancing, friends, and fun. In case you can't make it on a Sunday, there's also a smaller version of this on Thursdays at Reggae Heights. These events are perfect for those interested in experiencing Antiguan culture, sampling local cuisine, and making lasting memories.
Explore The Island On An Open-Side Safari
One of the best ways to see most of Antigua in a short amount of time is by going on a tour with Charles in Charge. You'll have the opportunity to see the diverse landscape of Antigua from an open-side vehicle – meaning no windows or doors to obstruct your view. Our tour was led by Bernadette who gave us tidbits of information about Antigua and the specific places we stopped along the way.
My favorite stop was Tyrells Roman Catholic Church. I've never seen a pink church before, have you? What made this experience even more special is the fact that an actual wedding was about to start when we arrived. While waiting for the bridal party, the father-of-the-bride came up to me, and we had a quick minute to say hello and chat. He was so excited to be walking his daughter down the aisle in just a few minutes. I wish we could have stayed to see the bride make her entrance, but we had so many other stops to make!
Devils Bridge was the most memorable stop. This natural rock arch is a unique feature of the island made famous by its dramatic setting. However, it also has a dark history. During the 16th and 17th century, many slaves from neighboring sugar cane plantations would throw themselves off Devil's Bridge rather than continue as a slave. The waters around this area are very rough, so chances of survival were low. I know this is sad to read, but I think it is essential to learn the history of a place to understand it better.
Some other places we visited were Morris Beach, Turner Beach, and a few local fruit stands. We ended the tour at Turner Beach and had dinner and drinks at Turner's cafe.
If you'd like to book a tour with Charles In Charles directly, you can email maragiraud96@hotmail.com, or you can request him through Scenic Tours Antigua.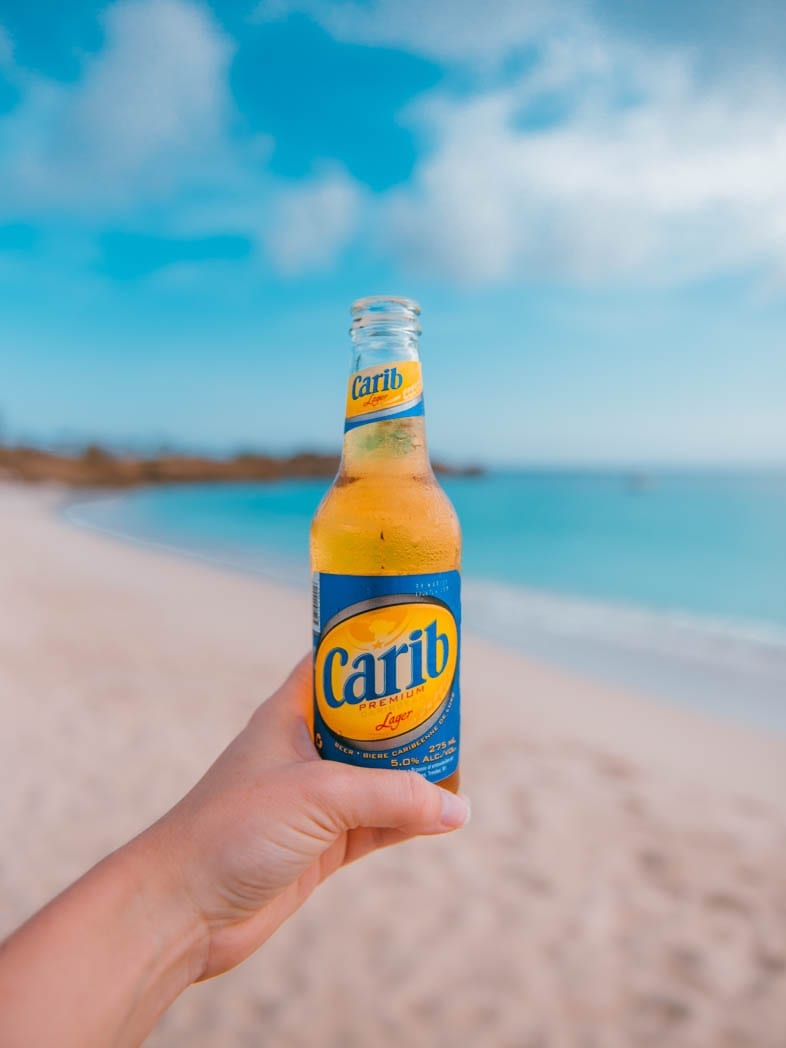 Enjoy The Sand And Sun At Any Of The 365 Beaches
Remember how I said you could visit one beach every day for an entire year on Antigua??? That means there are 365 beaches around the island!
During my trip, I visited Galleon Beach, Turners Beach, Morris Beach, and Long Bay Beach. All of these were great options for working on my tan and enjoying the turquoise waters. However, I didn't see nearly enough for my taste. Some other beaches worth visiting are Fryes Beach, Valley Church Beach, Galley Bay Beach, Darkwood Beach, Half Moon Bay, Runaway Beach, and Jabberwock Beach. Hopefully next time I'll have the opportunity to go to all of them!
Scooter Snorkeling Off Galleon Beach
Antigua has many great places to snorkel: Cades Reef, Carlisle Bay East, Deep Bay, Darkwood Beach, Great Bird Island Beach, Prickly Pear Island. But have you ever considered scooter snorkeling??
Scooter snorkeling requires a sea scooter, which is a device with a harmless motorized propeller that allows you to navigate better and dive deeper underwater. This activity is perfect for those of you who love to free dive or snorkeling because you don't have to use much energy. After five minutes of traditional snorkeling, you might feel your muscles are already exhausted from paddling, but when you scooter snorkel, your legs get a break from kicking.
We did a tour with Skylork off of Galleon Beach and had a wonderful time! The guides, Damon and Jerome, prepared us for using the scooters and ended up taking us to areas around the English Harbour and Hercules Pillars where we could see the best marine life. We saw countless sea turtles, eagle rays, multitudes of fish, conch, sea urchins, and a shipwreck! It's one of the best snorkeling experiences of my life!
Still not convinced scooter snorkeling is right for you? Check out my video below from our tour with Skylork!
Hike Around The Island for Incredible Views
What's refreshing about Antigua is that it's more than just beaches. There are a few rugged mountain areas and hikes you can go on!
A few hikes that are sure to get your blood pumping are Wallings Nature Reserve, Mount Obama (the highest point on the island at 1,319 ft), Carpenter Rock Trail, Greencastle Hill, and Middle Ground Trail. I specifically recommend Middle Ground Trail, for one reason: Goats! The trail is sometimes called the 'Goat Trail' because of the number of goats in the area. If you're interested in hiking Middle Ground Trail, keep reading for a summary of the hike.
Before you start Middle Ground Trail, you have a few steps to go through. You'll begin at Nelsons Dockyard and walk past the Copper & Lumber Store towards the marina. Once you get to the beginning of the docks, you'll see a trail on the right side that goes up the nearby hill. Take this pathway until you get to the start of Fort Berkeley. Instead of going towards the fort, keep your eyes peeled for a trail on the right side that leads up the mountain. There should be a sign and white arrow/spot marks on the path the indicate the direction of Middle Ground Trail.
Tip: The hill is quite steep, and there is loose gravel, so definitely wear trainers or hiking shoes instead of sandals or flip flops.
As you head up the hill on Middle Ground Trail, you'll slowly start to get great aerial views of the surrounding area. Once you hit the plateau, don't stop. Keep going straight until you see a rocky hilltop with ropes. These ropes are there to help hoist you up to the most fantastic lookout! At the top, you have the option to keep going down the path towards Pigeons Point Beach. However, I opted to stop and enjoy the amazing 360-degree views of Nelsons Dockyard, English Harbour, and Falmouth Harbour. Plus, this is where you'll see hoards of goats! If you go in the Spring, you'll even get to see baby goats.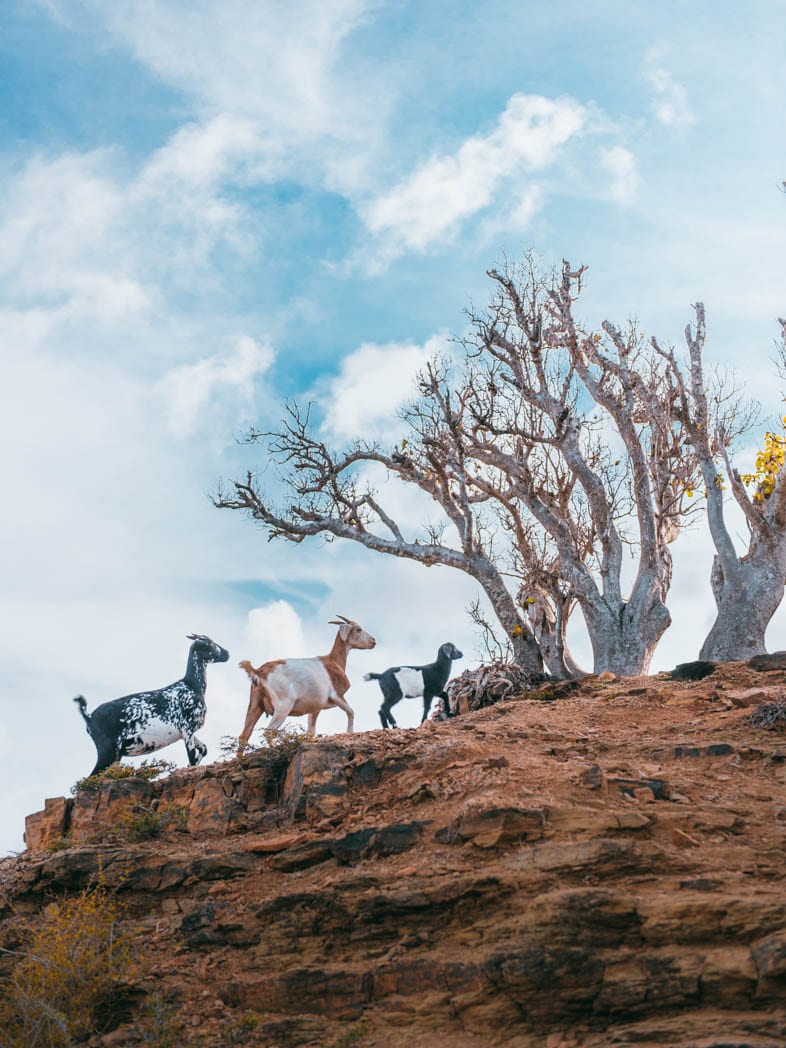 Try Antigua's Famous Black Pineapple
Once you try an Antigua Black, you'll never go back! The inside is sugary sweet without being acidic, so it tastes like candy. Locals say the unique taste is due to Antigua's fertile soil, moderate rainfall, and sunshine. These conditions are perfect for cultivation.
Despite the name, the fruit isn't black but instead remains a dark green even when ripe. Therefore, local farmers must pick each pineapple by hand and determine its ripeness based on touch and smell.
You can find these delicious treats at many of the roadside fruit stands like Clemies. Once you purchase your pineapple, they cut it up for you and offer it on paper plates with some toothpicks for you to immediately have a taste.
Tip: Make sure to ask for the Antigua Black or locally grown pineapples. Production of the fruit is moderate, so restaurants, resorts, and some fruit stands will import pineapples to have enough to sell.
Attend A Fish Fry At Nelsons Dockyard
Remnants of British colonialism can be found all around Antigua from the many abandoned sugar mills to the streets of St. John. The most famous is Nelson's Dockyard. Positioned on the English Harbour and next to Fort Berkeley, Nelson's Dockyard became the center for the Royal Navy in Antigua, providing ship maintenance or repair and officer quarters.
Today, Nelson's Dockyard is a Unesco World Heritage Site, with a museum, bars, and restaurants. It also becomes quite popular at the end of the week during Seafood Friday!
Every Friday at 6 pm, locals and tourists gather outside of Copper & Lumber Store for a huge fish fry! There are many delicious food options (including traditional fish and chips, mahi-mahi, shrimp, saltfish, etc), music, dancing, laughter, and joy – everything you need for a perfect night in the Caribbean.
Wander Through The Streets Of St. Johns
If you are on the island of Antigua, a trip into the colorful town of St. John's is a must.
Fair warning, this is the capital and chief port for the island, so expect cruise ships and crowds. Don't let those things deter you from exploring the city. Because St. John's is a hub, the streets are lively and filled with shops, restaurants, bars, and markets. It's the perfect place to buy souvenirs and try some local dishes like fungie, ducana, and seasoned rice.
For those of you interested in learning a little history, head to the Museum of Antigua and Barbuda, St. Johns Cathedral, or Fort James.
My favorite part about the city is the colorful exterior of the buildings. The beautiful pastel colors completely embody the vibrancy of the island. You will come across many of these buildings around every corner. For my personal favorites, walk around Redcliffe Clay or head down towards the water on St. Mary's Street.
Sail Into The Sunset On A Catamaran Tour
If you are staying a few nights in Antigua, I highly recommend spending one evening sailing into the sunset. There are a few different sunset cruises to choose from but if you happen to be free on a Friday evening, check out Mystic Cruises.
During our two and a half-hour adventure, we sailed along the beautiful shores an Antigua, sipped on a variety of drinks (hurray for an open bar), devoured delicious hors d'oeuvres, and danced as the sun dipped below the horizon. It was incredibly fun and something I'd recommend to everyone!
Go On An Island Eco Excursion
There is so much of Antigua to explore both on land and sea. So why not go on a tour that does both???
With Antigua Nature Tours, you have the opportunity to get close and personal with Antigua's wildlife and landscape on a tour that includes kayaking, snorkeling, hiking, and beaching.
You'll begin your two and a half journey by kayaking through the Red Mangroves of North Sound Marine Park. At this time, you'll see creatures like sea cucumbers and upside-down jellyfish. Then, you'll take a speedboat out to Great Bird Island to snorkel at one of Antigua's best reefs. As you swim in the crystal clear waters, you'll come across a variety of marine life including Brain Coral and Blue Tang fish like Dory from Finding Nemo! If you're not much of a snorkeler, you have the option to hike around Great Bird Island or relax on the beautiful white sand beach with some rum punch. The island is full of tropical birds and coconut trees – the picture of paradise.
Visit The Donkey Sanctuary
If you love animals and are looking for a non-water activity, you should visit the Antigua Donkey Sanctuary.
Operated by the Antigua & Barbuda Humane Society, the sanctuary offers shelter to over 150 donkeys! They provide on-site grazing and water, and when they raise enough money or receive grants and can continue with fencing projects and shelter constructions. However, the Humane Society's primary responsibility is providing the necessary labor to feed the donkeys.
Some of these donkeys, like Stevie, require special attention. Poor Stevie was hit by a vehicle and lost his sight. However, because of the sanctuary, he is well looked after and loves the attention of everyone who stops by.
If you'd like to visit, be sure to check out the Antigua & Barbuda Human Society Website for more information. Visitors are welcome to help brush, take photos, and share their experiences with friends and family.
Make Some New Friends At Stingray City
You may have heard of Stingray City in Grand Cayman, but did you know there was one in Antigua? It's one of the main attractions on the island.
On the East side of Antigua, there is an area where you can swim in a shallow part of the ocean with wild stingrays. These rays are free to come and go as they please. However, since they are used to human contact, they don't quite act like 'wild' stingrays and are quite friendly, even playful.
Unfortunately, I didn't have the opportunity to go, but it looks like an exciting experience. From my research on tours and reviews on Trip Advisor, it seems you get about an hour with the rays. During this time, the guides will offer to let you feed the stingrays and hold them.
While many said it was their favorite experience on the island, there have been reports of people getting bitten, stung, or scratched accidentally by the barbs. It's important to remember that stingrays are wild animals and accidents happen. There are always risks on these kinds of tours so just be aware and cautious.
If you're interested in spending time with these stingrays, visit the Stingray City Antigua Website.