Beijing is a sprawling metroplex housing more than 24 million people with a history stretching back 3 millennia. With so much culture, history, and quantity of activities, Beijing can be overwhelming which is why many tourists stick to four big tourist spots: The Forbidden City, Summer Palace, Temple of Heaven, and The Great Wall of China.
Layton and I spent five full days in Beijing last March which was plenty of time to see those traditional tourist attractions and visit a few off the beaten path places. I hope this post convinces you to get out of your comfort zone and explore the not as popular sights and experiences Beijing has to offer.
Yonghe or Lama Temple
The Lama Temple is a functioning temple and monastery of Tibetan Buddhism. It was built in 1694 under the Qing Dynasty as the residence of Prince Yong, who would become the fifth emperor of the Manchu-led Qing Dynasty. After he ascended the throne in 1722, half of the building remained an imperial palace while the other half was converted in a lamasery, a monastery for monks, hence the name Lama Temple.
While it may not be as famous as some other places in Beijing, it is gaining popularity. I believe within a few years it will become one of the more popular tourist destinations. My advice: Go before it gets too crowded.
The Yonghe Temple is special for two reasons.
1. Because it is a function temple and monastery, many of the people who visit are not tourists. Whether you are there to worship or observe, you can't help but feel an overwhelming sense of spirituality. As you wander through the temple, you hear the beautiful chants of the monks, you smell the strong aroma of incense, and you see many people bowing, praying, and meditating. All of your senses are alert and mesmerized.
2. The Lama Temple houses the largest statue of Budha carved out of one single piece of shite Sandalwood. This statue was a gift from the seventh Dalai Lama and took three years to transport from Tibet to Beijing. It's hard to comprehend it's size until you stand directly at its feet.
Note: Many rooms have a "no photos" rule sometimes enforced by a monk.
Old Hutongs
You might be wondering 'what is a hutong?'
A hutong is a narrow lane, alley, or small street formed by Siheyuan, traditional courtyard residences. After a while, neighborhoods that are connected by Siheyuans became known simply as hutongs.
In the past, Beijing had hundred of these hutongs surrounded the Forbidden City. From 1368 – 1949, the number of hutongs significantly increased to 3,250. However, due to population growth and city construction, less than 1,000 remain. Most of the hutongs that are left were transformed into tourist attractions that highlight street food, shopping, and bars.
One of the most famous hutongs is Nanluoguxiang. It is 800 years old with sixteen side hutongs, so many different alleys and street to explore. If you move away from the main shops and into the less touristy areas of the hutongs, you'll get a glimpse of the current residence's lives.
Note: I think I took the photo with the lanterns at S Luogu Alley and Di'anmen E St. However, if that's not the exact spot and you happen to find it, please let me know!
Jiaodaokou Street
If you plan on doing a walking tour of the Nanluoguxiang Hutong from the Lama Temple, I encourage you to take a route that includes Jiaodaokou S Street. You can find a map here.
Jiaodaokou S Street is a modern street that runs parallel to Nanluoguxiang. It doesn't look old like the surrounding streets, but it does have some great food and shops. Many locals get their fresh produce and meats here as well so if you're thinking about cooking some local cuisine, this is where I'd get the ingredients.
There are also a few stores that sell delicious treats, like caramelized strawberries on a stick. Yum! You can also find these in the hutongs but why not pick some up on your way there.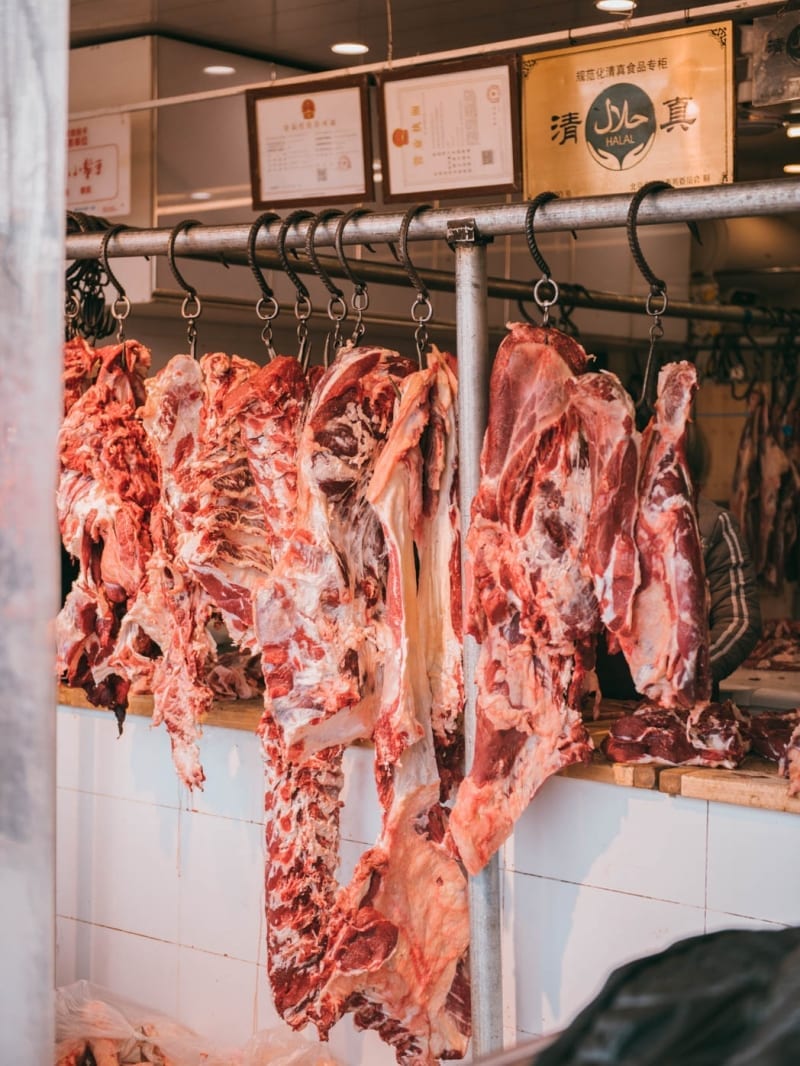 Huo De Zhen Jun Miao Temple 火德真君庙
If you want to go to something truly off the beaten path, then definitely visit Huo De Zhen Jun Miao Temple or the Fire God temple. It isn't on any 'Must See' list, so you will probably have the entire place to yourself.
Huo De Zhen Jun Miao Temple doesn't look like much on the outside, but the inside is lovely. As you wander under the colorful flags, listen to the chanting monks (I think it's a recording), and smell the recently burned incense, all your worries go away, and you'll start to relax. Even though just outside the temple walls are the busy sidewalks and crowded hutongs, you feel at peace.
Because it isn't a huge tourist attraction, there was no information about the temple in English written anywhere when I visited. There also isn't too much online but here is what I've learned about this temple.
The Huo De Zhen Jun Miao Temple is one of the oldest temples dedicated to the God of Fire, dating back to the Tang dynasty (618-907). The origin of this diety is unknown. However, most believe the God of Fire dates back to around 206 BC. They believe the god started as a man, Zhu Rong who served as a minister to China's mythical Yellow Emperor. The worship of the Fire God became a form of superstition where many believe this spirit would punish evil doers by setting their houses on fire.
One of the funniest things I discovered while doing research is that people used to hang erotic pictures in kitchens and inside roof beams to prevent visitations from the Fire God since he was known to be a prude.
Address: 77 Di'anmen Outer St, ShiChaHai, Xicheng Qu, Beijing Shi, China, 100009. You will find this temple near the Jinging Bridge across the street from the subway stop Shichahai.
Nightlife At Shichahai
Shichahai, literally meaning "the lake of ten temples," is a historic scenic area consisting of three lakes, ten famous Taoist and Buddhist temples, and several royal mansions and gardens. It is also near hutongs and Huo De Zhen Jun Miao Temple, so I recommend visiting all three places the same day.
While many tourists flock to Shichahai for its natural beauty and historical buildings, it is also home to Shichahai Bar Street or Houhai Bar Street. On this street, you'll discover many bars, restaurants, and cafes that feature great drinks, various styles of live music, and fantastic service! It's no wonder Haouhai Street has become the go-to nightlife center in Beijing.
One of the best bars we checked out was the Reggae Bar. If you want something a little more mellow and includes hookah on the side, I'd suggest stopping by! A few other bars you can check out are Free, Furen Bar, 31 Bar, or Houhai Posthouse Pub. There's a few dozen more in this area so if you get bored, walk a few steps to the next one.
Lunch at Bai Jia Da Yuan
Wouldn't it be amazing if you could go back in time and experience life as Qing royalty? Now you can at Bai Jian Da Yuan 白家大院!
Located in the famous Roca Garden on Suzhou Street in the Haidian District, Bai Jian Da Yuan was once a place of entertainment for Emperor Qian Long and his concubines. Due to the preservation of the garden and buildings, this complex has become a courtyard garden restaurant that recreates life during the Qing dynasty.
At Bai Jian Da Yuan, you can expect to be served by staff dressed in colorful traditional Qing Dynasty dresses and garments, taste cuisine inspired by imperial food and some typical Northern Chinese dishes, and enjoy beautiful decor and architecture.
Because this is such a unique restaurant, it is very sought after and reservations are required. However, when we went for lunch, they were able to accommodate us. I think we got lucky, so call ahead if you speak Mandarin or have your hotel call to make reservations (010-6265-8851).
Note: The menu is not in English, but they do provide a photoelectronic menu. Also, none of the staff spoke English when we were there so I'd suggest downloading the Google Translate app to communicate.
Gubeikou & Jinshanling: Less Traveled Sections Of The Great Wall
The Great Wall of China is 13,170 miles long and has multiple sections you can explore. However, if you visit from Beijing with a group tour, odds are you will go to Mutianyu or Badaling. Driving to these sections (the closest and easiest to hike sections) of the Great Wall from Beijing takes a minimum of 1.5 hours. That means more crowds and therefore, a less enjoyable experience.
Layton and I wanted to have the best Great Wall experience possible, so we decided to book a private tour with Beijing Walking Tours that took us to the Gubeiko and Jinshanling section of the Great Wall at sunset.
The Gubeiko Great Wall, about two hours away from Beijing, is known as the 'wild wall.' It retains original bricks and stones from two separate dynasties and is not fully restored. As you walk along this section, many parts are in disrepair and covered in overgrown vegetation. However, seeing this ancient wall snake along the distant, jagged mountains is truly something to behold.
Only a thirty-minute drive from Gubeiko is the Jinshanling Great Wall. While Jinshanling is repaired enough so visitors can easily climb, it is not as well-preserved or restored as Badaling or Mutianyu. However, it is known as the 'paradise of photographers', and for good reason. The views of the surrounding mountains are incredible. Plus this section of the wall is far from Beijing, so there is less smog – making it the perfect place to watch the sunset. To this day, watching the sunset at Jinshanling has been my favorite memory of all time.
Gubeiko Great Wall
Jinshanling Great Wall