Raise your hand if you're a fan of AMC's Mad Men!
Now, what if I told you, you can feel like you just walked onto the set of Mad Men at one of Scottsdale's prominent hotels? Would you want to go? Well lucky for all of us, Hotel Valley Ho in Scottsdale, Arizona can make you feel like you just stepped back into the past.
Originally opened in 1956,  Hotel Valley Ho is where historic charm meets modern luxury, effortlessly fusing the best of vintage personality with contemporary styling. The mid-century modern architecture really takes you back in time to an era that was full of color, geometric forms, and clean, sculptural lines.
Not only does this charming hotel provides guests with luxury rooms, two pools, a day spa, and restaurant Zuzu ran by chef Russell Lacasce, it is also only steps away from Downtown Scottsdale's renowned dining, shopping and art galleries for a stay that's both relaxing and entertaining.
Property
The mid-modern century design by Edward Varney, a student of Frank Lloyd Wright, presents itself throughout the hotel (think thick glass walls, lots of cement ceilings and pillars, colorful chairs and tables, and geometric decorations).
The property quickly attracted Hollywood stars such as Robert Wagner, Natalie Wood, Jimmy Durante, Bette Davis, Zsa Zsa Gabor, Humphrey Bogart, Betty Grable, Janet Leigh, Marilyn Monroe, Cary Grant, and many more. The Hotel Valley Ho was considered to be a chic desert oasis, similar to that of Palm Springs but more low key.
It is Hotel Valley Ho's history that makes the hotel so intriguing and charming. Plus, the funky design is perfect for photo ops, so be sure to have your camera handy at all time!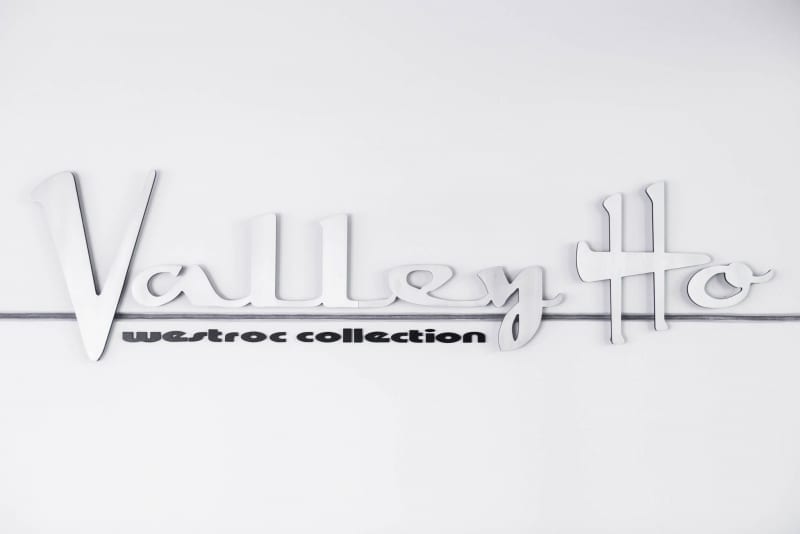 Room
There are many different room options at the Hotel Valley Ho; each as charming as the next. You'll have the option to stay in The Tower or The Hotel.
The 7-story luxury tower has 50 suites and rooms, each with its own balcony and colorful tile walls. We stayed in the Tower Suite which had a king bed, a large bathroom, walk-in closet, full-size kitchen, spacious living room, and a washer and dryer! On top of all of that, we also had a connected Tower Signature Guest Room consisting of a large room, king bed, a terrazzo tile bathroom with translucent walls, and an oversized bathtub and separate shower!
In all my years of travel, I have never stayed anywhere so amazing!
If I wasn't fawning over the bright colors that decorated the rooms, I was admiring the amazing pool view from the balcony.
Don't forget to order room service!!! With such an amazing room, it's hard to leave, so why not enjoy a meal with your hair up and robe on??
During your stay at Hotel Valley Ho, you must check out OH Pool!
To no surprise, this hip hotspot was named one of the World's Coolest Pools by Travel & Leisure. Enjoy the gorgeous Arizona weather by swimming in the pool, relaxing on colorful lounge chairs, sipping on handcrafted cocktails, or listening to live music during summer weekends.
For an added luxury, cool off in a private cabana or plush daybed. Each daybed accommodates four guests and the cabanas are available for up to eight guests.
Each cabana rental includes a choice of three amenities. A daybed rental includes a choice of one amenity. Here are you choices:
Bucket of Fiji Water (4)
Bucket of Red Bull (4; Original, Sugar-Free, Blueberry, Cranberry, Lime)
Fresh Fruit Plate
2 Virgin Cocktails (Strawberry/Peach Daiquiri, Pina Colada, Bloody Mary)
Homemade Tortilla Chips + Salsa
Fresh Veggies + Dip
Water Toy Pool Pack
Fresh Fruit Smoothies (2)
Hummus + Pita Plate
If you're looking for something a little more private, check out the OHasis Pool. The rectangular pool is perfect for laps and quiet lounging. If you'd like some poolside snacks and beverages, the staff is more than willing to accommodate.
ZuZu
One of my favorite parts about staying at Hotel Valley Ho was dining at Zuzu.
This little restaurant provides the best of everything: relaxing atmosphere, warm hospitality, and top of the line cuisine.
First off, what sets Zuzu apart was their amazing staff. Our waiter Garrett created such a fun and relaxing atmosphere. Not only was he knowledgeable about the menu, but to my surprise, and delight, he is a huge Game of Thrones fan. Needless to say, we talked until closing about our predictions and theories for the final season!
Our table was also visited by Zuzu's resident chef Russell. While I love food, I'm not an expert, so I really appreciated that Russell took the time to go into detail about the menu and recommend items that I might enjoy. You can really see his passion for cooking and providing you with only the best.
This is the list of the drinks and dishes I had the opportunity to try:
Passion Mule: tito's vodka, lime juice, ginger beer + passion fruit puree
Burrtata: pickled green strawberries, toasted pistachio, mint pistou, thai basil, strawberry vinegar, smoked sea salt + noble bread
Maine Lobster Rolls: parker house buns, tarragon, celery, kewpie mayo, mini potato chips + butte
Lobster + Asparagus Anson Mills Grits: sous vide fried egg, grilled sourdough + chive butter
Pan Roasted Petaluma Chicken: cast iron seared, served with sweet corn, summer squash, fried herbs + natural jus
Everything was absolutely delicious! I actually have never tried lobster rolls or grits before and I must say that these were my absolute favorites! They were recommended by the chef himself, so it's no wonder they were to die for!
If you're looking for fun, excitement, relaxation, and luxury, you are looking for Hotel Valley Ho.
I promise you will leave wishing you could stay just a little bit longer. To book a night with Hotel Valley Ho, click here!