Not only is the Sheraton Puerto Rico Hotel & Casino situated in the Puerto Rico Convention Center District, but it is only minutes away from historic Old San Juan and the beautiful San Juan beaches. The hotel's close proximity to these locations make it an ideal home base for both business and leisure guests staying in Puerto Rico.
Whether you're utilizing the business center, overlooking the Bay of San Juan at the infinity pool, trying your luck at the casino, or getting a taste for some local cuisine, you'll find that there is something for everyone at the Sheraton Puerto Rico Hotel & Casino.
Rooms
Out of the 503 rooms and suites at the Sheraton Puerto Rico Hotel & Casino, I had the pleasure of staying in the colorful Superior Room.
The Superior Room features beige carpets and upholstered headboards, white linens, white and wooden furnishings and orange accent walls. It has 2 ultra-comfortable Sheraton Signature beds, an ADA-Compliant shower with bath and extra space, stunning balcony views of San Juan Bay and the Puerto Rico Convention Center, a state-of-the-art safe lock key card system, a coffee maker, 40-inch flat-screen TV, and High-Speed Internet Access.
Since I am constantly working, it was so refreshing to actually have wifi that really was high speed! Too many times I've stayed somewhere where I could only find a connection to the Internet in the lobby. But at the Sheraton, once you connect, you will stay connected anywhere on the property.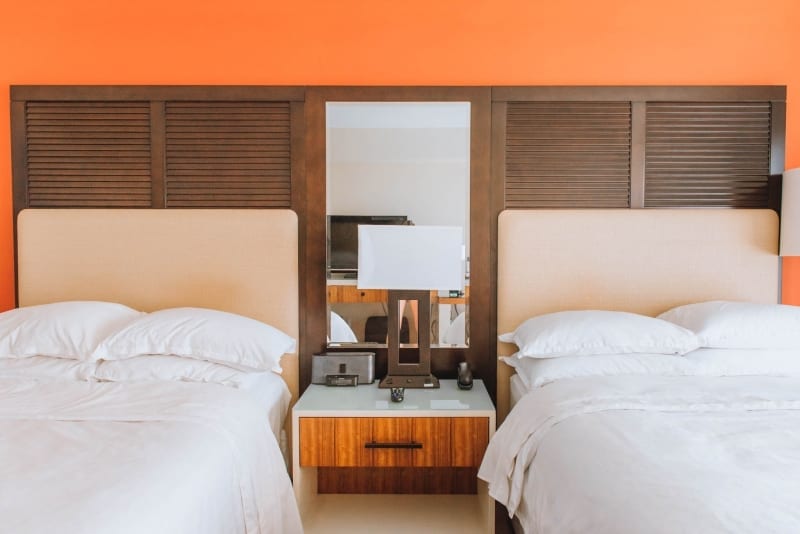 Property
The Sheraton Puerto Rico Hotel & Casino opened in 2009 with the intent to provide accommodations for those attending the Puerto Rico Convention Center. This specific Sheraton property is unlike others as it is more upscale, contemporary, modern, and fresh, while providing guests with everything for business and entertainment.
For example, the hotel's casino has over 400 slot machines and 18 game tables including Blackjack, Poker, Roulette, EZ Baccarat, Craps, and more. The best part —it's open 24/7! So have some fun and hit the casino!
The hotel also offers a club lounge for those who would like to upgrade, a fitness center, infinity pool overlooking the Bay of San Juan, multiple dining options, and spa treatments at Zen Spa Retreat.
No matter what you're looking for, you'll find it here at the Sheraton Puerto Rico & Casino.
Infinity Pool
On the fourth floor of the hotel, guests will discover an infinity-edge pool that overlooks the bay and San Juan Cruise Port.
There are two shallow areas within the pool as well as a longer section perfect for swimming laps. Around the pool deck are lounge chairs, pool cabanas, and a jacuzzi.
As a bonus, if you are getting hungry or would like a drink, the Bay Pool Bar & Grill is at your service. I highly recommend trying their delicious guacamole and the Margarita Sombrero. Both are delightful and, let's face it, you shouldn't have one without the other!
The Sheraton really does a fantastic job creating the perfect place where guest can relax and unwind with a cocktail in hand while enjoying the bay views at sunset.
Choices and The District Lounge & Sushi Bar
Choices, located on the bottom floor of the Sheraton Puerto Rico, is the go-to restaurants for breakfast, lunch, and dinner. At this casual urban bistro, Executive Chef, Jannette Berrios, does a fabulous job featuring traditional favorites with a Puerto Rican twist.
For dinner, I was lucky enough to try a variety of new dishes on the menu such as the fish tacos, lechon croquette, urban fajitas, and barrilito pudding. Everything really was scrumptious —especially the lechon croquettes. It was my first time trying them and I couldn't get enough!
The District Lounge & Sushi Bar, located on the bottom floor of the Sheraton Puerto Rico, provides guests with a sophisticated yet relaxed setting for cocktails and a quick bite.
I personally loved the atmosphere at this lounge, especially after a drink or two following a long day out and about in San Juan. Also, can we just take a moment to admire the 'out of this world' light fixture hanging above the bar???
Zen Spa Retreat
After a full day of traveling and another full day walking around Old San Juan, my body was in serious need of relaxation. Lucky for me, the Sheraton hosts the Zen Spa Retreat, located on the third floor of the hotel.
As I entered the Zen Spa, a wave of calmness washed over me. The dimly lit lobby, soothing smells, and friendly receptionists provide a tranquil atmosphere, which continues throughout the spa experience.
The Spa features eight treatment rooms, two VIP suites, a Vichy shower, men's and women's locker rooms with saunas and steam rooms, two relaxation lounges, and a tea room. Available treatments include massages, facials, body wraps, and hair or nail services. A select number of zen stone treatments that use natural elements like basalt lava, marble, and jade stones are also offered.
During my time at the spa, I enjoyed a hot stone massage, the sauna, the relaxation lounge, and a glass of champagne. The experience was far better than I could have imaged as I left with a feeling of ease and serenity.
Whether you're visiting San Juan for business or pleasure, I highly recommend staying at the Sheraton Puerto Rico Hotel & Casino!
To book a night click here!
This post is written in partnership with Marriott Hotels and Sheraton Puerto Rico Hotel & Casino. As always, my thoughts and opinions are my own. Thank you so much to everyone who made this trip possible, and to the wonderful staff at Sheraton Puerto Rico for making me feel at home. This trip was definitely one to remember. 
Angie xoxo 
FOR A SNEAK PEAK OF MY ADVENTURES IN PUERTO RICO,  CHECK OUT THIS VIDEO: