The people of the blue-green water (havasu means "blue-green water" and pai "people") have a beautiful, yet remote, life. Isolated from the world and accessible only through a long-tedious hike (more on that later) or by helicopter, Supai village is as remote as you can get. However, the water surrounding the village is why thousands of adventurers make the trip each year.
Havasu Creek, world famous for its bright blue-green color, starts out as a trickle of snow run-off and rainwater before it travels about 50 miles entering Havasu Canyon. The water stays at about 70 °F (21 °C) all year around. The creek runs through the village of Supai, and it ultimately flows into the Colorado River at the bottom of the Grand Canyon.
Layton and I decided it was time to check this beautiful location off our bucket list, and so began our 30 mile, 3-day, wet, and gorgeous adventure.
Hiking Havasupai Falls
There are two times you'll truly "hike" during your trip: going down the canyon to the campground/village and coming back up the canyon to get home. Here are some tips for both!
Hiking Down: In a perfect world you would start the hike before 7AM. At the very latest, don't start after 10AM
You'll have to park at Hualapai Hilltop and check in with the front desk (the only building around the trailhead). They don't allow day hiking, so you must have a reservation to hike! Don't forget your ID and credit card since you will need these when checking in at the Havasupai Tourist Office, in the village.
From there, you'll start down a steep set of switchbacks that are the beginning of your journey. The initial few miles are in the exposed "wash" before you enter the canyon. It can get pretty toasty during this part of the hike, so the earlier the better. The next few miles are through the canyon, where the walls of the canyon provide some shade, but it's rare to find a breeze. Finally, the last few miles are through the village to the campground where you'll walk along the river and see some of the falls you'll get to explore soon!
Hiking down really isn't too hard. If you choose to carry your pack (you can have the mules or helicopter take it down for you), make sure you pack it correctly to avoid super sore shoulders. The hike from the top to the campground is roughly 10 miles (although it feels more like 12), so bring plenty of water (we brought a 2.5-liter camelback for each of us). Your feet will most likely hurt at the end of the hike, but you can soak them in the river once you get there!
The hike down took us three and a half hours to get to the village where we stopped for an hour to get food and then one more hour from the village to the campground. Total hiking time was 4.5 hours.
TIP: Take plenty of breaks to grab some pictures of this unique hike. You may think you'll have time when you hike back for photos, but believe me, you'll be to tired to even think about it.
Hiking Back: I'm not going to lie, this is the tough one. Most people either helicopter back or have the mules take their packs at the minimum. We foolishly didn't do either.
The hike is going uphill the entire time. From the campgrounds to the village, you have a fairly steep ascent. From the village through the canyon, the ascent if fairly flat, but you still notice the slowly climbing landscape. After you exit the canyon (which seems to be much longer than it did on the way down), you enter the hardest part: the switchbacks up to the parking lot.
If you've ever seen the massive canyon walls of the Grand Canyon, you know what you're climbing. You start at the bottom of the canyon and climb to the top. It's hard, long, and painful. However, you will make it.
We left the campground around 7AM and that was about two or three hours too late. By the time we were climbing the switchbacks, it was hot and sunny. I highly suggest leaving the campground at 5AM or earlier so you will have mostly shade while hiking through the canyon. This means you need to set an alarm for 4AM or earlier in order to take down the tent and pack up camp.
The hike back took us an hour and a half to get to to the village, three hours through the canyon, and then one and a half hour up the switchbacks. Total of about 6 hours.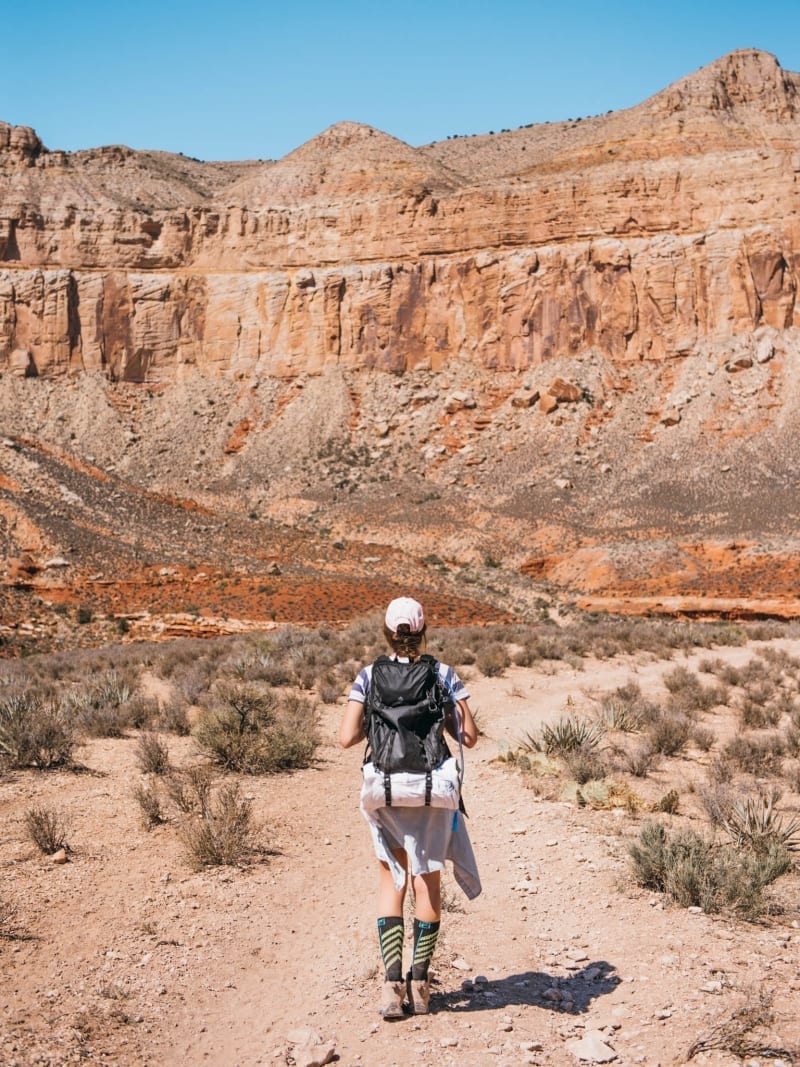 Havasu Falls
Havasu Falls are the most famous of the waterfalls you'll discover during your stay. Located about 1.5 miles from the village of Supai (right before the campgrounds). They are easily the most visited of the various falls along Havasu Creek.
The falls consists of one main chute that drops over a 90 foot vertical cliff into a series of plunge pools. Due to the effects of flash floods, the appearance of Havasu Falls and the plunge pools have changed over time. Prior to the flood of 1910, water flowed in a continuous sheet, and the falls were known as Bridal Veil Falls. The notch which water flows now first appeared in 1910, and has changed several times since. Water currently flows as one stream, but in the past, there were sometimes multiple streams.
These falls are hard to miss because you walk right past them to get to the campground. You'll probably hear them before you actually see them! It is truly an amazing site.
Due to the open nature of the canyon around the falls, you can visit these at any point during the day. We went around 4PM and stayed until sunset which made for a beautiful ending to our first day.
Mooney Falls
Named after D. W. "James" Mooney, a miner, who in 1882 decided to mine the area near Mooney Falls for minerals. One of his companions was injured, so James Mooney decided to try to climb up the falls with his companion tied to his back, and subsequently fell to his death.
The Falls are located 2.25 miles from the village Supai, just past the campgrounds. The campground trail leads to the top of the falls, where there is a lookout/photograph area that overlooks the 210-foot canyon wall that the waterfall cascades over.
In order to gain access to the bottom of the falls and its pool, you have to scale a rugged and dangerous set of wooden ladders, chains, and caves. Be careful, but don't be afraid.
The trail down is located up against the left side of the canyon wall. The first half of the trail is only moderately difficult until the entrance of a small cave is reached. At this point, the trail becomes precarious. The small cave is large enough for the average human, and leads to a small opening in which another cave is entered. At the end of the second cave the "trail" becomes a vertical rock climb that is similar to descending a ladder. Strategically placed chains, handholds, and ladders aid in the climb. Mist from the falls often makes the rock slippery, so climb down backwards (like you would a ladder) to make it much easier.
I hope this doesn't scare you. If I can do it, so can you! I promise the risk is worth the reward.
TIP: If you want to have the place to yourself and take the best photos, make sure to do Mooney Falls in the early morning.
Beaver Falls
Beaver Falls is a set of small falls that are located close to each other. The falls are about 5 miles from the village of Supai (or about 3 miles from Mooney Falls). They are the most difficult falls to access, but they were our favorites. It will take you around 6 to 7 hours to truly enjoy Beaver Falls and the journey there and back, so plan accordingly.
Once you get to the base of Mooney Falls (easier said than done), there is a path along the canyon wall that will take you to Beaver Falls. The next 3 miles are remote, rugged, and gorgeous. The trail is not always easy to follow and requires multiple crossings of the creek. I highly suggest you buy hiking sandals not water shoes. We had shoes and small rocks kept getting in them when we crossed the creek (which caused an uncomfortable hike).
Be sure to keep an eye out for a palm tree!! Yes you heard that right, a palm tree in the middle of the Gand Canyon (see my photos below)! It is the only one you'll see during the hike, and one of the biggest palm trees I've seen. I recommend taking pictures around here since it looks like you've been transported to a Moroccan Oasis.
At the palm tree you'll have two paths to take. You can either go left and cross the river which will lead you to the top of Beaver Falls. Or you can go right and climb the ladders which lead you to the bottom of the waterfall for a view of the whole thing. I suggest taking the trail with the ladders to see the picturesque view of Beaver Falls.
Once you arrive, you can enjoy swimming in many pools, cliff jumping, and climbing up, down, and all over the falls.
Fun Fact: Beaver Falls was once much more impressive. It had a height of about fifty feet in one fall, but the great flood of January 1910 destroyed it, leaving the falls over the limestone ledges as they are today.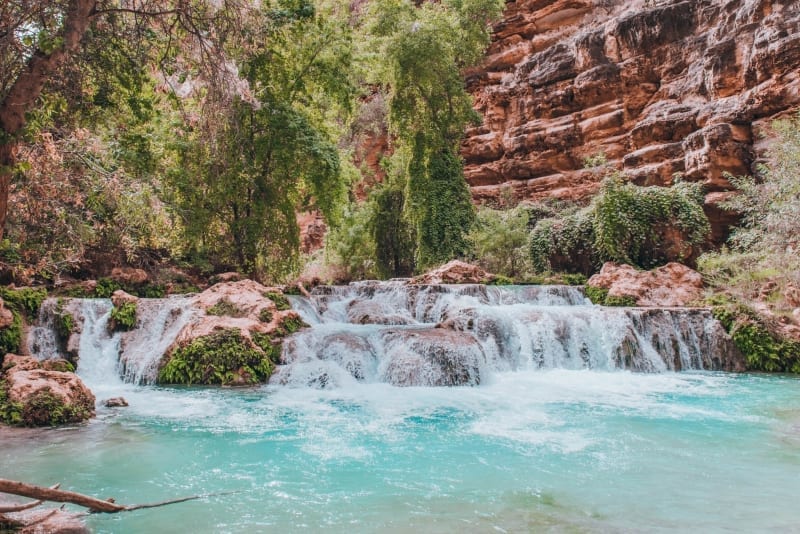 Campground
ALL campground reservations are 3 Nights / 4 Days.
$100 per person per weekday night
$125 per person per weekend night (Friday/Saturday/Sunday nights)
This means that a 3 Night / 4 Day stay will be a total of between $300 and $375 per person (depending upon how many weekend nights are included)
Lodge
$440.00 per night – Up to 4 people
$100.00 deposit per room / per night
Transportation
Pack Horse (up to 4 bags per horse)
Pack Mules must be reserved online BEFORE your visit!
Helicopter Service
85.00 per person – One way
*Since the pricing isn't on the website, I'm basing this off 2018 prices. But expect it to cost more.
There is also a $110.00 entrance/ environmental fee charged per person.
February 1st at 8:00 am Arizona Time is when all campground reservations for the entire 2020 season go on sale. An account at HavasupaiReservations.com will be required to create a 2020 campground reservation. The lodge is completely sold out for 2020 and campground reservations usually sell out immediately on the morning of February 1st, so be sure to set up an account in advance.
For more information, visit the Official Havasupai Website.
Packing for Havasupai
Before we could even start our trip, we had to prepare for what lied ahead: 3 days camping with a 12-mile hike there and back. This was our first "true" backpacking trip, so we had to buy everything we would need.
Here's what we bought:
Semoo Water Resistant, 2-3 Person Lightweight Tent

Bought during Amazon Prime Day for $30
While we saw several smaller tents, I preferred one with a bit more room on the inside. Luckily, Layton carried it and not me!

If you want to spare the weight of the tent, I suggest getting a hammock like this one: CLICK HERE. We saw a ton of these throughout the campgrounds. If you go between the months of April to September, you should be able to find a warm enough spot to comfortably sleep in one of these throughout the night.
Norsens Ultralight Lightweight Compact Mummy Design Sleeping Bags

You don't need a four-season sleeping bag. It is quite warm most of the year (we practically used our sleeping bag as a blanket), so I doubt you will even zip your three-season sleeping bag up!
REDCAMP Self-Inflating Sleeping Pad with Attached Pillow

If you don't go the hammock route, I highly suggest a sleeping pad. The ground is rather rocky and it would've been terribly uncomfortable to sleep on. These self-inflating pads were perfect for us!
Osprey Porter Travel Backpack 46 Liter

This was Layton's backpack. It was big enough to carry his clothes, our food, a sleeping bag, a sleeping pad, a camelback bladder, the tent, and my tripod (the tent and tripod were strapped outside of it). There is no way I could've carried so much!
This backpack worked, but it is not optimal. If you backpack a good amount, I suggest buying a backpack with an internal frame like this one: CLICK HERE.
Eagle Creek Exploration Series Systems GO Duffel Pack 35L

This was my backpack! I got it from www.luggageonline.com (be sure to use my personalized Promo Code 'TheLovelyEscapist20' which offers 20% OFF) and it worked perfectly for me! It held my clothes, camera, sleeping pad, sleeping bag, and camelback bladder (the sleeping pad and sleeping bag were strapped outside of it).
Columbia Men's Newton Ridge Plus II WP Hiking Boot

These are the boots Layton used and they worked great. No complaints from him.
I'm not even going to share my boots because I got blisters the size of quarters on my feet and I don't wish that on anyone.
My advice, find boots that you've broken in, feel comfortable with, and don't rub you raw!
Waterproof Actions Sports Pack with 2L Bladder

The waterproof pack will come in handy when you are exploring the waterfall and the bladder will be handy during your trip as there is only one water source in all of Havasupai. So carrying enough water at all times is very important, especially during the hikes in and out.
Smith & Wesson SWBG10S Border Guard Liner Lock Folding Knife

This knife is great. The strap cutter worked perfectly for easily cutting rope and the blade worked great on food and everything else.
IT 32380 12 Oz Stubby Hammer

Small is what you're looking for! Since it has to easily fit into your backpack, we found this stubby hammer to be perfect for nailing down our tent.
Paracord Planet 100′ Hanks Parachute 550 Cord Type III 7 Strand Paracord

Dirt cheap and plenty of rope to strap down everything.
Energizer Pro 3 LED Headlamp

Everyone in your party will need a headlamp. Just be sure to turn them to dim during the night (our neighbors were not so kind).
Bear Outdoor Dry Sack/ Waterproof Bag 20L

Bag For Food: The squirrels are notorious for chewing through backpacks to get to the food. We hung this bag between trees on the Parachute Cord listed above and didn't have any issues. Lightweight and easy to close, this worked great.
Food (for 3 days)

1st day (hiking down):

Plan on eating before you start the hike down to Supai
Pack some gummy candies to keep your blood sugar levels up during the hike (we did sour gummy worms and starbursts)
Plan on eating lunch (or dinner if you started to hike late) at the cafeteria in town (it takes a while but they have burgers, french fries, and chicken fingers which are much needed)
We brought beef jerky, peanut butter, granola, tortillas, pop tarts, and power bars for dinner. The tortillas were a great choice. If you bring peanut butter, bring a spoon (we didn't).

2nd Day (exploring the falls):

Plan on eating a light breakfast. We had pop tarts.
You can eat lunch at the cafeteria again (if you go to the first few waterfalls) or pack a lunch if you go the far waterfalls. We ate granola nearly all day.
Same kind of dinner as the first night (tortillas and beef jerky were our favorites).

3rd Day (hiking back):

Eat a light breakfast. More pop tarts.
Pack some gummy candies for the hike.
Pack carb-heavy snacks for your breaks. We did tortillas.
If you leave early enough, you can get to your car by lunch. Then you can get into town for a good lunch.
Clothes (for 3 days)

Hiking boots
Thick wool socks
Water sandals
3 lightweight shorts
3 short sleeve t-shirts (make sure not to wear tank tops while carrying you backpack)
3 lightweight undergarments
2 swimsuits
1 long sleeve flannel
a hat
sunglassess
Tip: Bring a Turkish towel for drying off and baby wipes to keep clean.
TO SEE MORE OF MY HAVASUPAI ADVENTURES, CHECK OUT THIS VIDEO:
*Be sure to watch in HD 1080p res
I hope you found this guide helpful and plan on visiting Havasupai Falls very soon! If you have any questions about preparing for Havasupai or other suggestions, please leave them in the comments below. I'd love to hear from you!
Cheers!
Angie xoxo