If you're looking for a getaway that combines luxury and adventure, look no further.
Barnsley Resort, situated on 3,000 acres of land in Northern Georgia, is the ultimate retreat to unplug, relax, and connect to an outdoor lifestyle. They offer many experiences catering to those wanting to immerse themselves in the outdoors but they also provide guests with luxury amenities, delicious dining choices, a spa, and shops. So you can choose to channel your inner Annie Oakley by shooting clay discs at the shooting course or you can decide to channel your inner Scarlett O'Hara while getting a massage at the spa. There really is something for everyone!
Keep scrolling for amazing photos of beautiful Barnsley Resort as well as a comprehensive list of things to do on the property.
Accomodations
Barnsley Resort offers wonderful accommodations either at their three-story Inn or the
cottages
. With 150 rooms to choose from, you're bound to find one that fits your every need. During my time at Barnsley, I had the pleasure of staying at one of the charming cottage suites.
The Cottage Suites feature hardwood or carpeted floors, private porches, a master bedroom, en-suite bathrooms, and a separate living area
. They also come with a king bed, 32″ HDTV,  wood-burning fireplace, and clawfoot bathtub. It's these details that give the cottages a luxurious, yet homey feel.
My favorite part about the cottage was the porch swing! There's nothing more relaxing than sitting on your front porch while sipping a glass of wine and watching the sunset. Don't you agree?
Activities at Barnsley Resort
Horseback riding. Whether you're a beginner or an experienced rider, horseback riding through Barnsley Resort's 3000 acres is a must! The horses are sweet, our guides were knowledgeable, and the grounds were beautiful. This really is the most fun way to explore Barnsley!
Interact with fun animals at Barnsley Barnyard. And by fun animals, I mean miniature horses, donkeys, and goats. When I was there, they actually had baby goats! Seriously, it is cuteness overload at the barnyard! Many of us probably don't have access to a farm or barn, so if you're an animal lover and staying at Barnsley, don't miss out on this experience.
Hiking through the woodlands. Feeling the urge to stretch your legs? Hike the many trails around the property. You're sure to find yourself amongst Georgia's finest foliage and may even see a few animals along the way.
Bike around the property. I actually recommend doing this right after check-in to help you get better acquainted with the property. Just grab one of the many colorful cruisers next to the Outpost General Store and pedal away. And bring your camera! I promise you'll stop every few hundred feet to take pictures of the quaint streets, historic buildings, and beautiful views.
Check out the manor house ruins. The ruins and garden are hard to miss and even more difficult to forget once you learn about the history that surrounds them. Be sure to visit the museum and talk to resident historian Clent Coker. He is an amazing story-teller and will leave you hanging onto every word as he delivers the tales of love, war, tragedy, and murder that surround Barnsley Manor. Mr. Coker's great-great-grandfather worked with Godfrey Barnsley on the construction of Barnsley Manor, and his great-grandmother was born on the Woodlands estate just before the Civil War! How cool that his own family is part of the property's history!
Clay Shooting at High Adventure Shooting Grounds was my favorite activity at Barnsley Resort! I've actually gone clay shooting before but never on a real course! Barnsley's Shooting Grounds offer two 14-station clay courses with a diverse layout of shots in the open field, under a natural canopy of woods and over water. Not only was it thrilling to channel my inner Annie Oakley but to do so in such an idyllic environment made everything that much better.
Golf. I am by no means a skilled golfer. In fact, I've actually given up any attempt to better myself in the game after I dented my husband's driver. But if I had a knack for golf, I would have played on Barnsley's Jim Fazio designed golf course. Their beautiful course is situated on a rolling 378 acres around the lake, forest, and gardens of Barnsely Resort. No wonder it's one of the most sought-after golf courses in Georgia.
Kayak or canoe on the lake. What better way to enjoy beautiful blue skies and sunshine than on the water? If the weather permits, either walk along the golf course path or take a golf cart around the lake. You'll come across a little area along the shore with canoes and kayaks. Take your pick and enjoy the ride!
Visit the Spa. Unwind at Barnsley Resort's newly redesigned spa featuring 10 treatment rooms, separate relaxation areas for men and women, a steam room and sauna. With a variety of massages and treatments, you'll enjoy every blissful moment and leave feeling relaxed and rejuvenated.
Swim and Sunbathe. Care for a swim? Lounge around the Barnsley pool and enjoy stunning views of the golf course from Memorial Day weekend through Labor Day. This is the perfect place to escape the summer heat and work on that tan!
Restaurants at Barnsley Resort
Woodland Grills – Enjoy breakfast, lunch or dinner while overlooking Barnsley gorgeous golf course and the surrounding hills. I came here every day for breakfast to enjoy these lovely views along with their seasonal fruit smoothie! Seriously, it's a must taste so be sure to order it when you go!
Beer Garden – Looking for a casual dining experience? The Beer Garden is where it's at! Grab yourself a beer, order a panini, and enjoy your meal under a canopy of trees and twinkling lights. Once you're done, play a game of cornhole. . . or two. . . or three.
Rice House – You'll have a very unique fine dining experience at this 19th-century farmhouse turned restaurant. Chef Jason Starnes, Chef Evan Babb, and their team do an incredible job providing guests with a 'yard to fork' experience. Their goal is to create dishes with ingredients from local farms. I admire restaurants that choose to do this because not only are they providing the freshest food for their guest, but they are supporting local businesses. Obviously, the food was incredible! Chef Evan prepared for us an all vegan meal that was paired with a variety of wines by certified sommelier Jon Mattson. Drinks, food, and friends. All the ingredients for a wonderful dinner.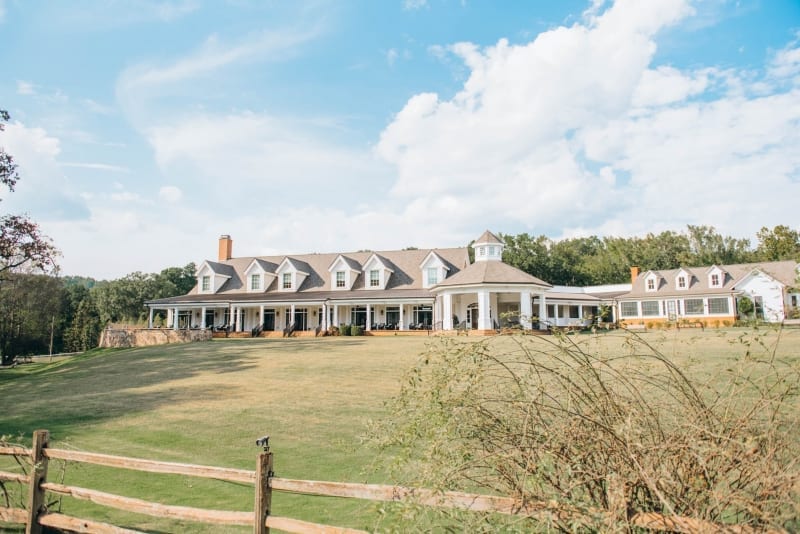 Thank you so much to Barnsley Resort and everyone who made my stay possible. I had a wonderful experience and hope to visit soon. As always, my thoughts and opinions are my own. 
Angie xoxo 
For more hotel reviews at The Lovely Escapist, click here.