Since I started sharing my photos with the world via Instagram and my website, the most common question I've received is what photography gear do I use. While I'm about to disclose all of that information to you, I want you to know that you do not need all this equipment to create beautiful content. In fact, about 5 years ago when I was starting out, I used a basic DSLR and kit lens. As I grew my photography business and travel blog, I upgraded to gear that would best suit my needs. So this is an up-to-date list of what I carry during my travels.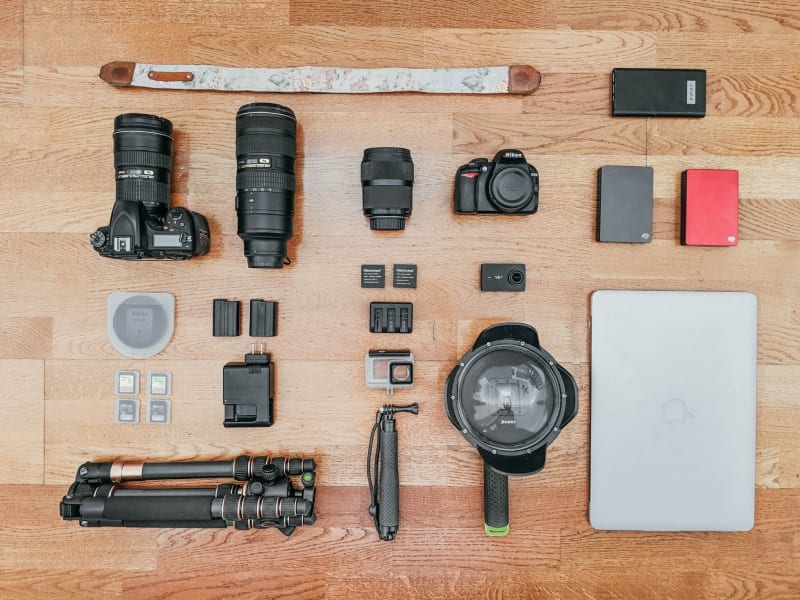 Cameras and Accessories:
For the past four years, I've taken photos with my
Nikon D750 FX-format DSLR
. The Nikon D750 is lighter than the previous model, full-framed, does exceptionally well in low-light situations, and has built-in wifi – all important for travel photography. If you're into videography, you'll be happy to know it shoots 1080p at 60, 30, or 24fps with full control over aperture while filming. While I don't usually video, the footage I have taken is clear and smooth. If you want to see an example, check out one of my YouTube Travel videos
here
.
Why did I choose Nikon over other brands such as Canon, Sony, Fiji, etc.? Well, one Valentines day about six years ago, in a successful attempt to help me figure out my passion in life, my husband bought me my first DSLR- the
Nikon D3200
. From that point on, I was going to be a Nikon girl.
Acessories:
SD Cards – It is super important to have a few extra SD cards around when you're traveling. Depending on the length of a trip, I usually carry about 5-10 additional cards. The reason: If one gets lost, stolen, or breaks, I have plenty of backups. My favorite SD cards are the SanDisk 16GB Extreme or the SanDisk 32GB Extreme Pro. Unless you're taking videos, there's no need to buy a larger SD card. When I shoot, the 16GB holds around 500 photos and the 32GB hold around 1,000 photos.
Extra Batteries – Always have at least one spare battery in case your first one dies. There's nothing like being in the most picturesque location without a working camera. I have two Nikon EN-EL15 Rechargeable Li-Ion Batteries. You can purchase other knock-off brand batteries that are compatible like the RAVPower Battery Charger Set. It will be cheaper, but from my experience, the batteries drain faster. In my opinion, if you purchase a Nikon, it's best to buy the accessories from Nikon. Same goes with any other camera brand.
Battery Charger – If you purchase your camera with a starter kit, odds are it'll come with a battery charger. But in case it doesn't, or you just bought the camera body, make sure to get one. I have the MH-25a Battery Charger made for Nikon EN-EL15 Li-Ion Batteries.
Camera Strap – I got my camera strap from a client as a gift, but it is from an Etsy store called Candy Leather.
Polarizing Filter – The latest addition to my camera bag is the Nikon 77mm Wide Circular Polarizer II Filter. What does a polarizing filter do? It darkens skies, manages reflections, suppresses glares from the surface of the water, and enhances colors. This filter is essential for any landscape and travel photographer.
No matter where I go, I always bring my
Yi 4k+ Action Camera
! Its small size and amazing photo and video quality make it the perfect camera for capturing all my action-packed moments. Some recent adventures I've had with this little guy are kayaking, off-roading, snowboarding, and snorkeling.
Since I don't have an underwater housing system for my DSLR (they typically cost around $2,000), I use the Yi 4k+ for all underwater shots. The photo and video quality are seriously amazing! If you want to see an entire travel video taken on the Yi 4k+, click
here
.
My two favorite things about the Yi 4k+ are the LCD screen on the back and the ability to shoot photos in RAW format. The LCD screen allows me to have a case protecting the camera at all times while I can still access the settings. This makes life so much easier when I'm shooting under water. And shooting in RAW is a lifesaver when I'm taking underwater shots. Now it may take up more space, but it makes a huge difference when editing in post-production.
Acessories:
Lenses:
The Wide Angle, Zoom Lens
During all my travels these past two years, the Nikkor 24-70mm f/2.8 is my go-to lens! The 24mm allows you to take amazing wide, landscape shots but the 70mm zoom enables you to get those detailed shots as well. Plus, the quality is just out of this world! Once you have this lens, you'll hardly use any others. Full disclosure, it is pricy and heavy but worth it.
While I don't use the Nikkor 70-200mm f/2.8 regularly, it is essential to have a zoom lens of this caliber for special situations. For example, if you like to photograph wildlife or more detailed shots in nature, this needs to be in your bag. I love this lens because it gives every photo a beautiful bokeh effect. The only downside is its size and weight. If you are not familiar shooting with an 8+ lbs camera and lens, you'll need some time to adjust.
The
Sigma 35mm f/1.4
and the entire Sigma Art collection, in general, is fantastic!!! The colors of the photos are always vibrant and the low aperture allows you to take some incredible pictures with a gorgeous bokeh effect. The Sigma 35mm lens used to be my go-to lens as a portrait and wedding photographer. I now don't use it as much due to limited packing space, but whenever I have the opportunity to use it for portrait shots, I take it. If you want to see an example of a photo where I used this lens,
click here
.
Backpacks:
The Kattee Canvas Backpack is the perfect versatile bag for any photographer. I say versatile because you can separate the top of the bag from the bottom part of the pack, which contains a detachable padded camera case. So you can store one camera body and 1-2 lenses in the bottom portion and your other personal belonging in the top area. Or you can remove the divider so it's just one large space. If you go this route, you can actually fit a 14″ laptop inside!
I have to talk more about the detachable camera case since it is incredible! Even if I have to switch to another bag, I always keep my camera in this padded case. It perfectly holds my go-to equipment, the Nikon D750 and 24-70mm. Inside the case is closed cell padding and soft cotton lining with inverse tapers (shockproof) and two slots for memory cards, so no matter what I know my gear is safe.
Overall, this is a great bag and best used for day trips.
The Eagle Creek Duffle Pack is my absolute favorite and most used bag! I've brought it everywhere with me over these last two years including multi-day treks to Havasupai Falls and the Inca Trail to Machu Picchu (pictured below).
Some great features of this backpack are that it is lightweight, water-repellent, contains a sleeve that'll fit my 15″ laptop, and there are multiple lash points for gear attachment like a tripod or sleeping bag. Another huge plus is its small size (20 x 10 x 7.5). You can either use it as your carry-on or as a personal item.
Oh, and it also perfectly holds the Kattee detachable padded camera case so I always pack that in there.
I'd recommend using this backpack whenever and wherever because it really is the best bag in the world!
Disclaimer – Some of the links used above are affiliate links meaning if you place an order through those links, I get a small percentage of the order amount. This doesn't cost you extra. So if you decide you purchase something through an affiliate link, I just want to say thank you!
– Angie xoxo