Soon after we started dating, Angelina told me she always wanted to hike the Inca Trail with her husband.
I'm not a huge fan of hiking, but I'm in good shape, and at one point I was an Eagle Scout, so I figured it couldn't be too hard. After all, the Inca Trail is one of, if not THE, most famous hiking trails in the world with thousands completing it each year….surely I can do it?
For those who don't know me, I'm Angelina's husband. For most of The Lovely Escapist's pictures, I'm the man behind the camera. We met in college at the University of Arizona when I was a Junior and she was a Freshman. Surprisingly, or maybe not so, we met while we were traveling for Spring Break. I guess even God likes a little foreshadowing in the stories he writes.
After we got married in 2016, we started planning our Inca Trail vacation.
We talked to people who went, read tons of articles, and even watched a few Youtube videos of the hike. I thought we were pretty prepared. The following story would argue otherwise.
I hope you enjoy this guide, built around our experience hiking the Inca Trail with Conde Travel. Hopefully, you won't make the same mistakes we did!
DAY 1
Morning – Bus From Cusco To KM 82
We woke up around 6AM. This was extremely early given we arrived in Cusco around 8PM the night before and we were out shopping until 10PM grabbing last minute supplies for the hike.
Angelina had caught a sinus cold the day before, so between the sneezing, running nose, fever, high altitude, and cold weather, she did not feel particularly good. However, the show (or hike) must go on! We did our best to power through with heavy doses of Emergen-C, Tylenol, and Claritin.
Our tour met in the Cusco main square, Plaza de Armas, around 7AM. There were two guides and twelve hikers, including us.
We hiked about a mile through the city to the bus. The bus ride was about two hours to Kilometer 82 (aka the beginning of the Classic Inca Trail).
Back in Incan times, KM82 was actually Ollantaytambo. It was a massive Inca fortress with large stone terraces on a hillside with a Sun Temple and the Princess Baths fountain.
When you take the train back from Machu Picchu, you'll arrive in Ollantaytambo and then bus back to Cusco.
Once you arrive at the Inca Trail check-in office, you'll show your passport, cross the river, and start the real hike. The start of the Inca Trail is around 9,000 feet above sea level (Denver is only ~5,000).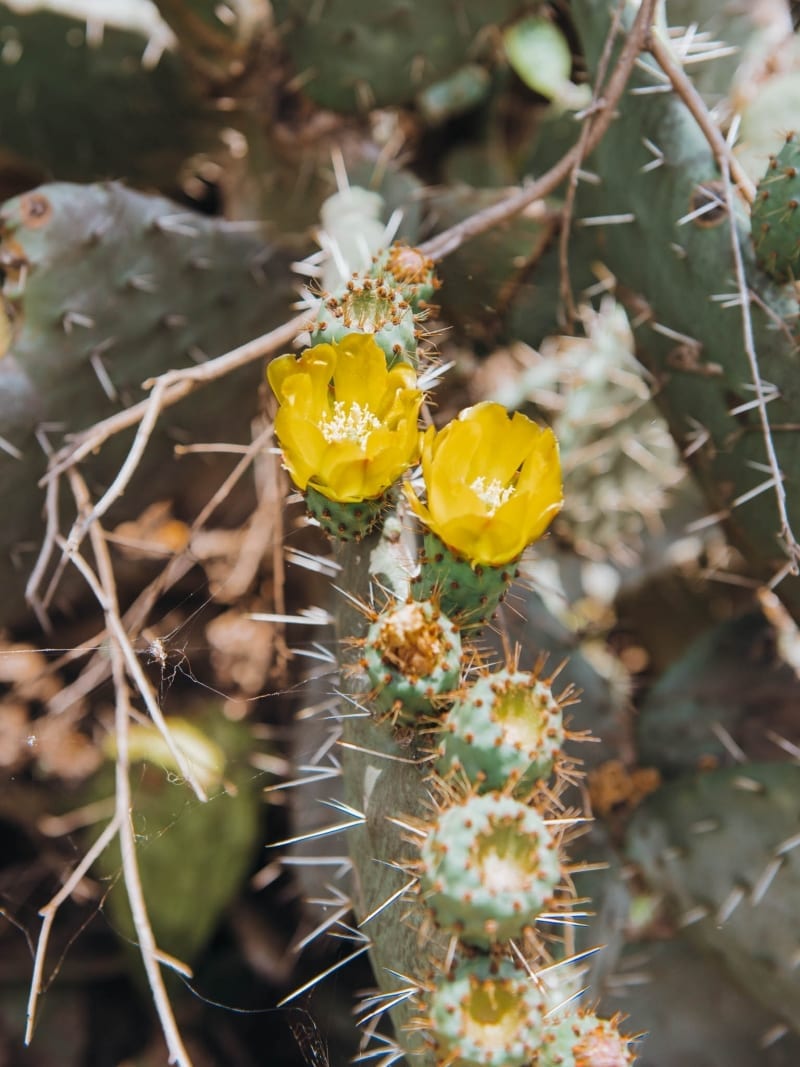 Midday – Llaqtapata & Lunch
The start of the hike is deceptively easy. You hike for around 3 hours, walking about 4 or 5 miles, until you arrive around Llaqtapata for lunch. It's low altitude, you are well rested, and the weather is nice. Use this time to get your backpack feeling comfortable on your back.
This trail isn't particularly pretty or awe-inspiring, but Llaqtapata has some history. You don't actually get to explore these ruins, but you can get a great picture of them from the hilltop (like below). Llaqtapata is around 8,500 feet above sea level. This is the lowest you'll be until you arrive at Machu Picchu.
After Llaqtapata, you make lunch. We had lunch in a small little village with a soccer court.
This is probably as good of a time as any to chat about the food. We had heard stories that varied significantly about the quality of the food during the hike. Some said it was the best food they've ever had while others said it was horrible.
Our experience fell somewhere in the middle.
Since Angelina wasn't feeling good, we drank a ton of tea. The tea was top notch. I'm not a huge tea fan and I drank a lot of it, so that should say something! The other beverages (hot cocoa, rum, and even lemonade) were all delicious as well. I suggest trying the coco leaves tea if you haven't tried it yet during your trip.
The food was good some meals and bad other meals. The problem is, you have to eat it no matter what. You will need calories throughout the trip so skipping a meal isn't a smart move. If you packed some snacks, that should help you subsidize your appetite when the food isn't its best.
Get used to rice. Every meal has rice involved. Eggs are also a big food staple. If you are a vegetarian or vegan (two of the girls on our trip were), be sure to check with the guides EVERY meal (they seem to forget). Do not expect steak, chicken, bacon, or sweets. We had chicken and beef once each. Most of the time it was soup with some veggies and rice.
If this doesn't sound great to you, bring snacks! We had tortillas and powerbars that saved us for at least two meals.
Afternoon – Huayllabamba & Camp
After lunch, you start hiking uphill to Huayllabamba or Wayllabamba (depends on who you talk to).
This part of the trail becomes a bit more picturesque. The hills start rolling as you hike higher in elevation, the mountains behind you start becoming smaller (so they fit into your framing), and everything gets a bit greener. You can see some of the snow covered peaks in the background across the river which makes for a pretty backdrop.
The hike gets harder though! You go up about 1,300 feet, to 9,600 feet above sea level, over about two hours. Keep your eyes on the trail, but be sure to stop and take pictures of the beautiful nature surrounding you.
Once you arrive at camp, it's pretty boring. The sun goes down fast, you eat, you sleep, and then it starts all over again.
Don't be in a rush to get to any camp (unless you are tired, smelly, and hungry, which will occur during days 2 and 3)!
DAY 2
Morning – Llulluchapampa
Day 2 is the hardest day of the Inca Trail….it was also the day Angelina felt her worst.
You wake up at 5AM and have a small breakfast. Then a decision has to be made.
The entire day is spent hiking up to Dead Woman's Pass (an appropriate name given it is nearly 14,000 feet above sea level. For comparison, Grand Teton, at 13,775 feet, is the highest point of the Teton Range and Pikes Peak, at 14,114 feet, is the highest point of the Rocky Mountains ). That's almost a 5,000-foot increase in elevation (similar to walking from the sea up to Denver in a single day).
⠀
Most people hire porters to take their backpacks up this steep incline. This is your decision to make: hire a porter for ~$25 USD or carry your pack yourself.
We didn't have the luxury of this decision because no one told us this was an option. Before we left the states, we only packed a certain amount of cash. After Huacachina, Lima, and buying goodies for the hike, we didn't have much left. Luckily, we had enough cash to pay for Angelina's backpack.
She truly needed the help.
However, the porters only carry ~20lbs of equipment. We had packed about 25lbs in her pack and 30lbs in my pack (damn tripod). This meant we had to take 5lbs of equipment out of her bag and put it into mine…….yay.
⠀
I was stuck carrying a 35lb pack up the hardest portion of the hike. If I could do it again, I would've hired a porter (everyone else in the group did, even the guides…).
The entire morning is uphill, so just get used to climbing steps.
The only thing I could compare it to is waking up at 5AM, strapping a 25lb weight to your back, and using the stair master for 6 hours straight.
However, it's not even that simple. The Inca Trail was built slowly and for people traveling by foot. It tends to go uphill a few hundred feet, flat for a few hundred feet, and then slightly downhill a few feet. It repeats this trend for all 26 miles. This means you never really get into a groove while walking it. The temperature also changes significantly. It goes from cold and windy to hot and humid in 15 to 30 minutes time. Don't even try putting a jacket on when you are cold (except at the peak of Dead Woman's Pass).
However, there are some pretty views along the morning hike. This is the first time you get to see those famous Andes jungles!
This portion of the hike is also through the wildlife conservatory area. You can see deer, bears, birds, and if you are particularly unlucky, Jaguars. We didn't see anything, but that's part of life.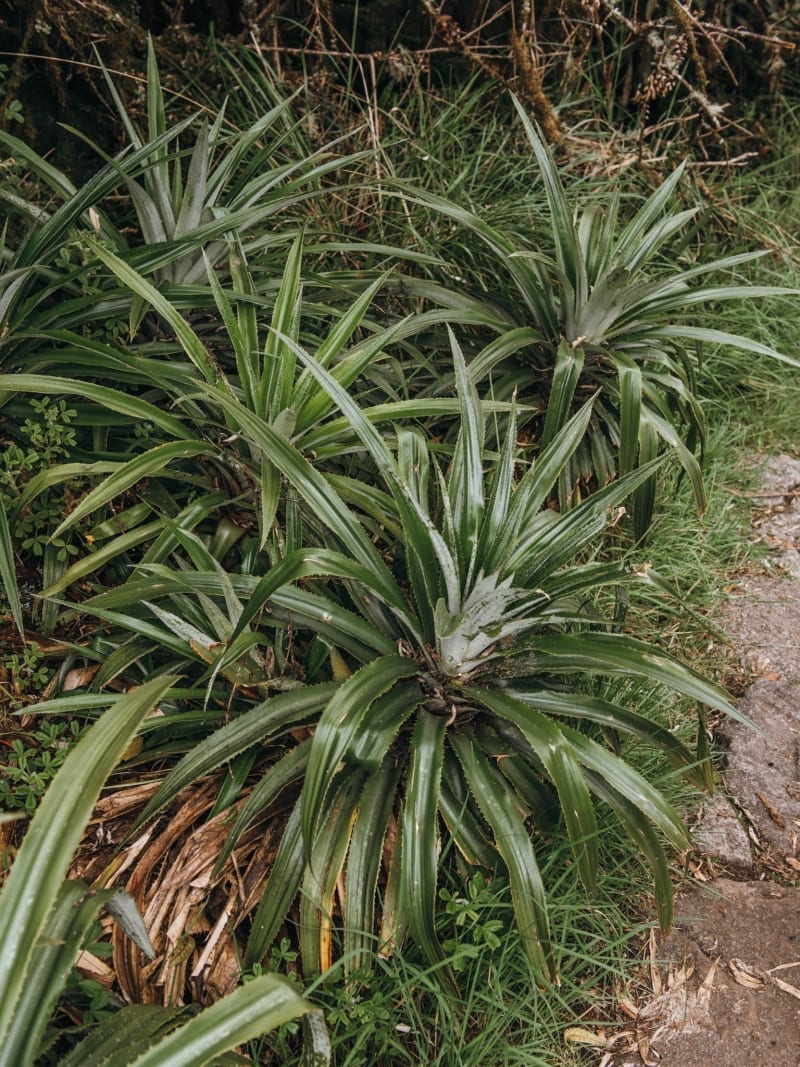 Midday – Dead Woman's Pass & Pacamayo
I can't stress how hard this part of the hike is.
One of the members of our tour group quit halfway through the day and decided to walk back down to KM82 and take the train to Machu Picchu. It was the hardest hike I've done (including Havasupai, which you can read about here). It took us 8 hours to reach the peak of Dead Woman's Pass. My legs were shaking with each step at this point.
Dead Woman's Pass marks the end of the hard part of the day though. It also makes for a beautiful picture spot, but be careful: it rains up there nearly all the time. You may also be too tired to snap a picture, which I understand as well. This is the only place on the entire hike where we put on our ponchos and cold weather gear.
After you've reached the peak, it's all downhill for the rest of the day. It still takes a few hours though. We got to the campsite at 4PM and were too tired to eat.
However, once we did regain our strength, the campsite makes for some awesome pictures!⠀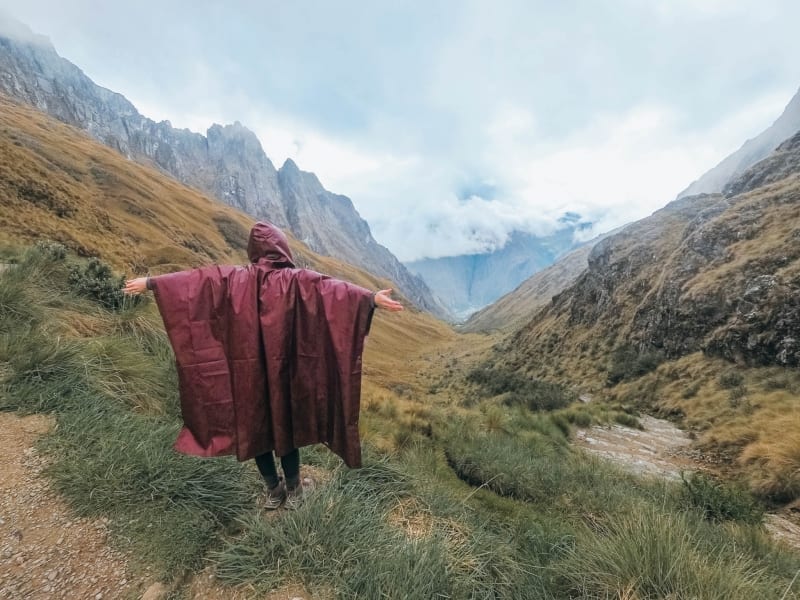 DAY 3
Morning – Runkuracay & Sayacmarca
Day three is not too bad. It is one of the best days for pictures so keep your camera handy!
After a cold night, you wake up at the crack of dawn and start hiking. You hike uphill for about two hours (increasing in elevation about 3,000 feet) to Runkuracay. It is an excellent picture spot! It's also a good place to catch your breath, so feel free to snap away.
It's all downhill after there though. You cover about 10 miles during day three and your knees will be exhausted afterward. You hike downhill from 13,000ft to camp at 8,300ft.
⠀
During the hike, you experience multiple changes in vegetation and landscapes. From the high mountains of the Andes to the jungles making up the valley floor, it's a unique hike. At some points, the jungle is so thick it looks like the vines and trees are growing right next to you, but they are actually 25 to 75 feet down a cliff face on the side of the trail. It was weird looking down at the trees expecting to see roots but then just seeing more trees and vines below.⠀
⠀
Totally reminded me of Emperor's New Groove.
Right before lunch, you should come across Sayacmarca. It rivaled the ruins at Machu Picchu in my opinion. The stonework, sewage system, and alter were really cool. Another great spot for some cool pictures!
Afternoon – Winaywayna & Intipata
After lunch, you come across two more Incan Ruins: Intipata and Winaywayna.
Personally, I loved Intipata. There were Llamas everywhere! It also has some amazing views. To sit on the edge of the old farming terraces and overlook the Incan Valley was the perfect way to end a long day of hiking. In total, you probably see around 5 or 6 Incan Ruins during this hike, which is something a lot of people will never experience.⠀If you take one thing away from this guide (other than how hard the Inca Trail is to hike), I hope it's the fact that you need to go where others haven't.
Take a lot of pictures here because it is one of the last viewpoints with the valley in the background.
We only saw Winaywayna from a distance, so I can't speak directly to the ruins there, but I imagine they are just as amazing as the rest along the Inca Trail.
Your camp for the final night on the trail is only 1/4 of a mile from the entrance to the Machu Picchu park, but is still about 2 miles from Sun Gate. You can't sleep inside the official national park of Machu Picchu. The Sun Gate is the "entrance" to Machu Picchu from the Inca Trail, but that's all part of Day 4.
DAY 4
Morning – Sun Gate & Machu Picchu
By this point, Angelina had gotten over her fever and was slowly recovering from the sinus infection. We were only a few miles from Machu Picchu, our bags were getting lighter (because we just threw away all the clothes we wore the days before), and our spirits were lifted!
I don't quite understand why, but you wake up at like 4AM on the fourth day, but the gates to the park don't open until 8AM. You wake up, eat a few crackers for breakfast and then head to the park gates. Then, you just form a big line with all the other tour groups and sleep. It's weird, so don't feel rushed to wake up early on the fourth morning.
Once you do get inside the gates, it's 2 miles to Sun Gate.
In all honesty, Sun Gate is overrated. Machu Picchu is so small from the Sun Gate that you can hardly see it in the pictures and the "gate" itself is more like a stone terrace. I personally suggest you power through Sun Gate and keep heading downhill to Machu Picchu. The hike from Sun Gate to Machu Picchu is about 30 minutes downhill (a few were going the opposite way, from Machu Picchu to Sun Gate uphill, and I felt bad for them, it was pretty steep).
Machu Picchu is cool.
Is it worth hiking three and a half days through the jungle and mountains?
Meh, maybe not, but then again, that could be because we already saw so many Incan ruins along the way. Machu Picchu is impressive because of its location. It is truly in the middle of the mountains. However, the buildings and technology of the city itself were nothing we hadn't already experieneced along the trail. I personally thought that the Mayan Pyramids in Chichen Itza were much more impressive.
I'm sure you are wondering how we look so well dressed after hiking three and a half days through the Andes….well we changed clothes once we arrived at Machu Picchu. Apparently, that's frowned upon. Without a hidden spot to change, I put on a button down and Angelina just threw her dress over her yoga pants and sports bra she was hiking in. Security saw this and (even though she didn't take any clothes off, she actually just added a layer of clothing) told us that she specifically was disrespecting the sacred grounds and we had to leave.
⠀
We had just arrived. If we were kicked out of Machu Picchu within 5 minutes of arriving, the last couple of days would've been for nothing. Our lifted spirits were plummeting back down to the ground.
After we were escorted to the entrance of the park, we explained our situation to the security manager (who actually spoke English). She checked our passports and said we were fine and let us back in. Then we rushed back to the spot and took a beautiful picture in our 'illegal' outfits.
Afternoon – Huayna Picchu & Agua Calientes
Huayna Picchu is the mountain next to Machu Picchu. It is almost exactly 1,000 feet higher than Machu Picchu, which makes for great pictures. However, this also means you have to hike 1,000 feet up. Did I say hike? I meant to say climb.
⠀
After hiking 26 miles through the Andes, this short, yet steep, hike kicked my ass. Only 400 people are allowed to hike up to the top, and we had purchased our tickets before leaving on the Inca Trail, so we had no idea how tired we were going to be but we still had to go.
I'm glad we did because it was by far the best view of Machu Picchu we could find from a distance. However, my legs were not happy with me the next few days.
Be sure to order your tickets to Huayna Picchu before you leave for your trip. If you don't, you won't be able to hike the mountain.
Also, before we left for the trip, people kept telling us how cold the Andes were. Machu Picchu is not cold. Since it is so high in altitude, 7,500 feet above sea level, the sun is blistering. We didn't have any cloud cover, which made for some great pictures, but we were sweating bullets.
After touring the ruins, it was time for a cold drink, so we headed down by bus to the tourist town of Agua Calientes at the foot of the Machu Picchu mountain. The bus ride is only about 30 minutes or so.
This town is beautiful in every aspect. After being in the wilderness for so long, you are happy to see restaurants, showers, massages, and flat streets again! This town is where all the trains to and from Machu Picchu arrive.
I highly suggest spending a few hours exploring Agua Calientes. Between the children playing ball in the square, the super yummy food in any restaurant, and the market selling tons of souvenirs, it is the perfect Peruvian tourist town.
Conclusion
At the end of the day, the Inca Trail is a tough hike, but it is something I'll always be able to say I accomplished. I hope it will be the hardest hike I ever do, and it is definitely not a honeymoon destination.
If you are an avid backpacker (not just hiker) then you will probably be fine. If you are used to the altitude, you will probably be fine. If you like outdoor adventures in the mountains, you'll be good. If you don't like hiking, camping, mountains, and altitude, then don't do it.
Taking the train to Agua Calientes and a bus to Machu Picchu still gets you to the finish line. If you really want to get a taste of the hike, do Huayna Picchu. It was totally worth the effort and rewards everyone with great views!
TO SEE OUR FOOTAGE FROM THE INCA TRAIL TO MACCHU PICCHU, CHECK OUT THIS VIDEO: