I hate New York City . . . or at least I used to!
I'm sure that sentence gave most of you a heart attack since it seems that NYC is one of the most beloved cities in the world. But for the past 6 years, I have despised it.
It was December 27, 2012. I arrived in New York with the same excitement many of you may have! I wanted to see the lights of Time Square, explore the concrete jungle, taste the amazing food from countries all over the world. But what I discovered was a dirty, overcrowded, unfriendly city; it was nothing like what I had imagined at all.
Fast forward to January of 2018.
I'm back in the Big Apple to attend the New York Times Travel Show. Due to my last encounter with the city, my expectations were very low. While I was excited to attend the travel show, I was not too thrilled about 'exploring' the rest of the city. However, on the way from the Newark airport to my hotel right in the heart of Time Square, I had a chat with my Lyft driver that I will remember forever.
My driver's name was Sair and he was from Afghanistan. He told me his life story: what life was like growing up, how he was able to get a visa to come and study in the US, how New York was his first home and that he never wanted to leave. His love for New York, the United States, and all people on the planet was so strong that I couldn't help but feel proud and fortunate that I live in not only this country, but a world where people can feel such love for one another.
With my heart filled with love and positivity, I emerged from Lincoln Tunnel and into Manhattan, finally seeing the beauty of New York for the first time.
It's incredible how much your perspective of a city or even the world can change by words of love. So, I would now like to show you all the wonderful things about New York City from my point of view!
DUMBO 
DUMBO is an acronym short for Down Under the Manhattan Bridge Overpass.
I feel really silly for admitting this but I always thought it was named after the cartoon elephant Dumbo. I'm hoping I'm not the only one who thought this! Even though this neighborhood in Brooklyn may not have ties to Disney, it is still quite a magical place.
Whether the sun is shining or snow is falling, the iconic view is truly incredible.
Address: 61 Washington Street, Brooklyn, NY 11201, USA
Best Time For Photos: Early morning or late afternoon. The lighting will be beautiful at both times and there shouldn't be too many people on the streets. Just make sure you don't go midday or during rush hour. 
Image Settings: 1/500 sec at f/ 2.8, ISO 320
Brooklyn Bridge
This historic bridge is one of the oldest roadway bridges in the United States and was the first steel-wire suspension bridge constructed.
Its beauty is unlike any other. It can be said it inspired more art than any other manmade structure in the United States. Artists such as Georgia O'Keeffe, Andy Warhol, Arthur Miller and many more have incorporated the bridge into their works. It has also appeared in TV shows and movies alike, including  "Sex and the City", "Moonstruck," "Godzilla" and "Spider-Man."
I promise if you take a walk on the bridge, you will find yourself inspired.
Address: Brooklyn Bridge, New York, NY 10038, USA
Best Time For Photos: Sunrise before rush hour. The lighting is beautiful as the run rises and there won't be many people on the bridge. However, once people head to work, the bridge becomes crowded and it's hard to get any photos without other's photo-bombing.
Image Settings: 1/800 sec at f/ 2.8, ISO 250
Greenwich Village
Greenwich Village is home to some of the most beautiful streets in all of NYC.
But what brought me to this picture-perfect neighborhood is my obsession for Sex and the City!
Only steps away from this gorgeous stoop is the building used for all the exterior shots of Carrie Bradshaw's apartment! I couldn't help but envision one of my favorite scenes where Mr. Big picked up Carrie with a limo and a smile as he said, "Get in kid".
Address: 64 Perry St, New York, NY 10014
Best Time For Photos: Mid Morning. After the hustle and bustle of rush hour has died down, you'll be able to stand on the steps of these gorgeous town homes and in the middle of the streets for some beautiful shots.
Image Settings: 1/200 sec at f/ 6.3, ISO 800
The High Line
The High Line is a 1.45 mile-long elevated linear park, greenway, and rundown railroad. If you need help finding it, check anywhere along 10th Avenue between Gansevoort St and West 30th St.
If you're looking for the perfect spot for a romantic stroll, alone time, or a fabulous photoshoot, the High Line is just the place! The views of the city and patches of greenery along the walkway are really quite beautiful!
Address: 91 Gansevoort St, New York, NY 10014
Best Time For Photos: 3:00PM. The lighting will start to fall behind the towering building and traffic in the streets will pick up. This mean, you'll have a great view of the city with little yellow taxis in the background. How New York!
Image Settings: 1/800 sec at f/ 6.3, ISO 1250
Rockefeller Center
Of course, when you come to New York you HAVE to visit Top of the Rock!!
Did you know that Top of the Rock is alternatively known as the Comcast Building & 30 Rock (also the name of the comedy TV show featuring Alec Baldwin and Tina Fey)?
Unlike other Art Deco towers built during the 1930s, the Comcast Building was constructed with a flat roof. Ever since 1933, it has been home of Rockefeller Center's observation deck: the Top of the Rock. It not hard to understand why it is one of the most popular Manhattan landmarks. The Top of Rock offers spectacular views of the Empire State Building, Central Park, and many other sights in NYC!
Address: 45 Rockefeller Plaza, New York, NY 10111
Best Time For Photos: Sunset. There's nothing like seeing the concert jungle from above with pink and orange hues reflecting off the buildings.
Image Settings: 1/320 sec at f/ 3.5, ISO 800
Central Park
In the middle of all that concrete lies 843 acres full of green grass, maple trees, and ponds. No matter what season you visit, you'll be blown away by its beauty and the juxtaposition between NYC and Central Park.
My favorite places around Central Park are the Gapstow Bridge, The Pond, The Mall, and Bethesda Terrace. Central Park is the most visited urban park in the United States, with 40 million visitors in 2013. It also happens to be one of the most filmed locations in the world.
Address: Gapstow Bridge, New York, NY 10019
Best Time For Photos: Anytime! Central Park is one of the most gorgeous places at any time of day in all of NYC. Obviously, the light will be harsher during the middle of the day so if you want a softer glow, try during sunrise or sunset.
Image Settings: 1/2000 sec at f/ 2.8, ISO 200
Times Square
Times Square is rightfully referred to as "The Crossroads of the World" &  "Center of the Universe".
With over 50 millions visitors annually, it ranks itself as one of the world's most visited tourist attractions. Even crazier, around 380,000 people pass through Times Square daily!! If you take a stroll, you're bound to meet people from all over the world. 
If you want to get the true Time's Square experience, be sure to go at night when it is lit up by bright screens and shining lights!
Address: 5 Times Square, New York, NY 10036
Best Time For Photos: 11PM or anytime later. It's hard to beat the crowds in one of the most iconic spots in all of New York City. However, after 11PM, when many locals and tourist alike are in the comforts of their homes, it becomes possible to grab some amazing pictures in Time Square without too many people.
Image Settings: 1/500 sec at f/ 2.8, ISO 400
Gelso & Grand
Gelso & Grand is situated in the heart of Little Italy at the corner of Mulberry (Gelso in Italian) & Grand.
The exposed brick, hardwood floors, large windows, and high ceilings all add to the charming atmosphere. The inviting setting and informal seating plan of the indoor & outdoor options are the perfect combinations of modern and classic New York dining.
My friends and I were treated to a specialty brunch where they surprised us with some of their favorites off the menu! The dishes included Smoked-Salmon Eggs Benedict, Inferno Pizza with spicy capicola mozzarella and chile oil, Croque Madame covered with hollandaise and ham between, and New York City's biggest Cannoli!
All of it was absolutely incredible, but I especially enjoyed the s'mores-gingerbread combo "smash cannoli" which has become a local sensation!
This dessert is almost a foot long and served with a wooden mallet, so guest can have a little fun by literally smashing it to pieces. As you use the mallet and the cannoli breaks apart, the different flavors mix together for a treat so delicious even Willy Wonka would be envious.
At Gelso & Grand, you are sure to enjoy a wonderful meal, incredible service, and a great time! Make sure to stop by if you're in the area!
Russian Tea Room
As you know by now, I'm a huge fan of Sex and the City. Which is why I couldn't pass up the opportunity to dine at the restaurant where Carrie Bradshaw went on her first date with "The Russian" Alexander Petrovsky!
The Russian Tea Room has been at the center of New York's cultural moments for the past eighty years. Founded by members of the Russian Imperial Ballet in 1927, The Russian Tea Room became a second home for many for artisans and intellectual who celebrated their friend's latest performances at Carnegie Hall (which is right next door).
Today, the Russian Tea Room keeps the highest of standards through their fine dining, elegant high tea, and modernist Russian-style decorated venue. There are actually three levels above the main dining area: Heath Room, Bear Ballroom, and Bear Lounge. Each level is decorated more beautifully than the last and serves as the perfect venue for many different occasions such as weddings, private events, and fashions shows.
If you're in New York City, you must visit The Russian Tea Room to experience this luxurious, old-world dining. Of course, you must try their renowned tea, but be sure to order the goat cheese & wild mushroom blonchik and beef stroganoff off the menu. I've honestly never had such delicious food in my life!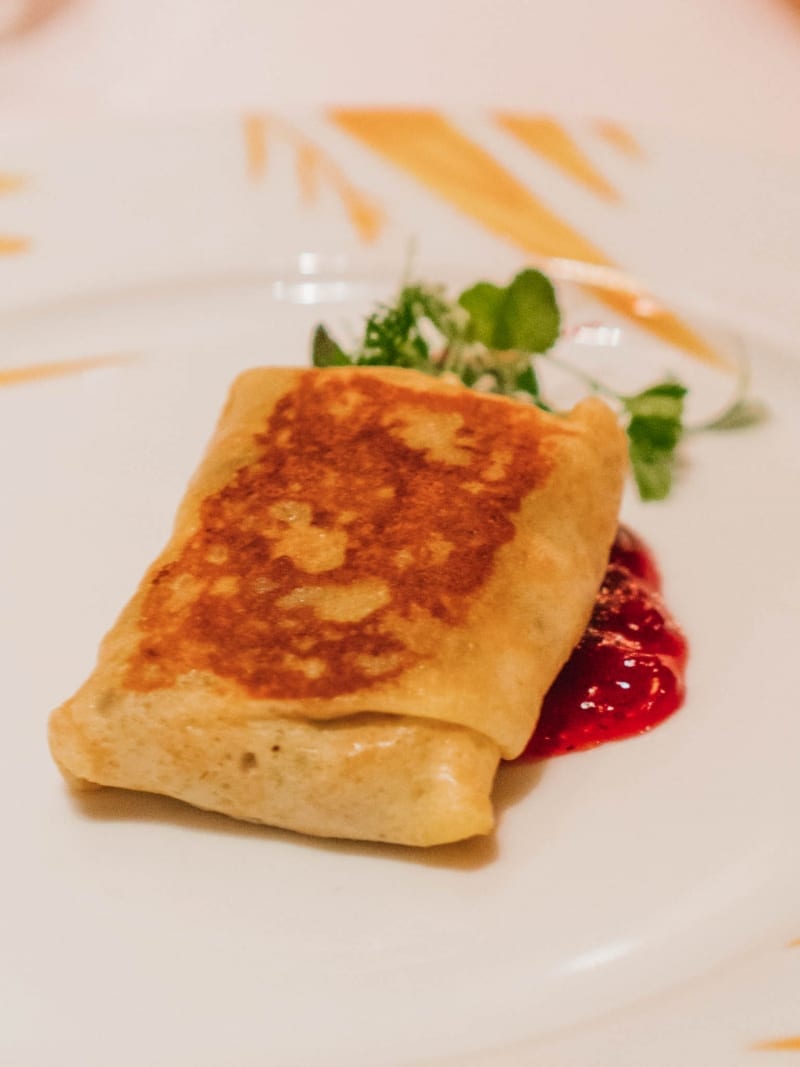 Doughnuttery at Chelsea Market
Chelsea Market is a food hall, shopping hall, office building, and television production facility located in the Chelsea neighborhood.
As you enter the market, you smell so many different things: noodles, meat pies, donuts, chocolate, and so much more. You noticed I said donuts right? So, of course, I had to find the source!
I soon discovered the hot, fresh, and uniquely sugary treats of the Doughnuttery! As I got closer, my mouth immediately started watering just from the smells and different flavors of bite-sized donuts being made.
There are over 20 flavors to choose from and I selected these four: Fruity Cereal, Paris Time, Purple Pig, & Lemon Pop. All were so delicious but if I had to choose a favorite, it would definitely be Fruity Cereal!
If you're looking for the best donuts in town, be sure to check out the Doughnuttery!
The Funky Loft
Only a 30-minute train ride from the Big Apple and tucked away in Brooklyn's artsy neighborhood of Bushwick is The Funky Loft.
This newly renovated loft has touches from the 1920's, carefully decorated vintage details, and the most amazing hosts! There are 3 available rooms to rent from, 1 kitschy 1970's bathroom, lush plants, wooden stairs, and an indoor swing hanging from the rafters!
It's the perfect place to stay if you're looking for a cozy, warm environment and want to enjoy casual evenings in Brooklyn.
To read more about my stay at this incredible Bed & Breakfast, check it out here —> Staying At The Funky Loft
What are some of your favorite sites, restaurants, and places to stay in New York City? Let me know in the comment below!
Cheers!
Angie xoxo